Happy Tuesday! About two weeks ago, I have posted about Booktrust's Ultimate List of 100 Books to Read Before You're 14.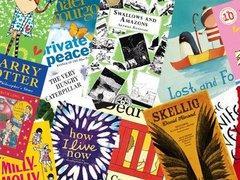 Booktrust has announced the definitive list of 100 books to read before you're 14 - and to celebrate we are giving away five books from the list. Yes, one lucky reader of Smiling like Sunshine will win five books from the 0-5 years category.

Drawing from over 90 years' experience recommending children's books; Booktrust experts selected the final 100 from an initial list of 500 books and are now asking everyone to join the debate and vote online for their favourites on the list (www.booktrust.org.uk/cbw). The nation's top books will be announced on November 25th so pick up a book, get reading and tell Booktrust what you think! Booktrust are giving you the chance to win five books from the list in the 0-5 years category from the eclectic mix of traditional classics and modern greats that Booktrust believe are must-reads to fire children's imaginations and turn them into life-long readers.

To be in with a chance of winning one of these fantastic books, all you have to do is leaving a comment on this post. For an extra chance share this post on Facebook and Twitter and please come back and leave another comment to let me know you have done so.

This competition is open to UK only. Closing time for entries is 29.10.2013 at 9pm. Image Credit:Booktrust
Thank you so much for stopping by! If you enjoyed this post, please join us on Facebook,Twitter,Pinterest and G+. Click on the buttons on the right hand side to follow us on these platforms.