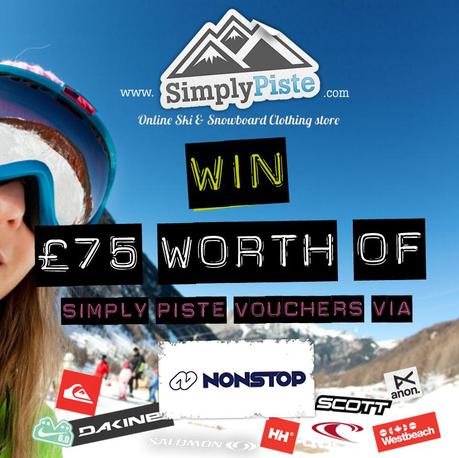 SimplyPiste.com has teamed up with Nonstop Ski and Snowboard which provides ski instructor courses across Canada, New Zealand and France.
In order to be in with a chance to win £75 of SimplyPiste.com gear simply answer the question below…
Freestyle ski and snowboard trick and grab names go from the sublime to the ridiculous – McTwist, Chicken Salad, Stalefish and Beef Curtains to name but a few. If you were to invent your own trick, what would it be and what would you call it?
Please post your entries in the comment box below.  (Comments Do Not Auto Approve)
The best entry will be selected by Simply Piste, and will win £75 of prizes from simplypiste.com.
Terms and Conditions for Nonstop Ski and Snowboard Competition
By entering into this competition, all entrants agree to be bound by these Terms and Conditions.
In the event that any entrant does not, or is unable to, comply with and meet these Terms and Conditions and the competition information, Simply Piste shall be entitled at its sole discretion to disqualify such entrant, without any further liability to such entrant.
Only entries made via the published competition entry method will be deemed valid. Only one entry per person is permitted.
The closing date for this competition is 19th October 2012, and the start date is 11th October 2012
To enter this competition you must be: (a) a UK resident; and (b) 18 years old or over at the time of entry.
This competition is free to enter and no purchase is necessary.
Nonstop Ski and Snowboard may exercise its sole discretion to use the winner's name and image and their comments relating to the prize and competition experience for future promotional, marketing and publicity purposes in any media worldwide without notice or without any fee being paid.
This competition is not open to employees (or members of their immediate families) of Simply Piste, Nonstop Ski and Snowboard or the competition promoter.
No cash alternative for the prizes stated is offered.
Only one entry per person is permitted.
The winner/s will be the entrant who Simply Piste selects to be the best of the entries by the judges.
The judges' decision will be final, and no correspondence will be entered into.
Winners will be notified by email. If winners fail to reply within 48 hours, Simply Piste reserves the right to pick another winner.
The promoter of this competition is Further, The Old Church, St Matthews Road, Norwich, NR1 1SP.
These terms and conditions were set out in accordance with The Consumer Protection from Unfair Trading Regulations (2008) and the The British Code of Advertising, Sale Promotion and Direct Marketing Code.
You must be available to take delivery of the prize in a reasonable timeframe.
Nonstop Ski and Snowboard will pay for delivery of the prize via Standard Delivery.
The promoter of this competition holds no liability should the prize be damaged, lost or stolen in transit.
Winners can use the prize value to purchase items of higher value.
The prize will be handled directly via email between Further and SimplyPiste.com