if I hadn't been watching it, last night, I probably wouldn't have believed this morning's news.Who's that guy?
Indeed. That guy is unknown 26 years old Czech 100-seed Lukas Rosol who, last night, totally destroyed the world number 2-seed Rafael Nadal in a second-round match on Wimbledon's Centre Court.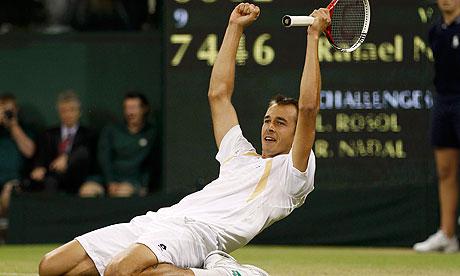 I wanted to show the happy face of Rosol in this post because, last night, while tearing chunks off Rafa it was like watching a CAGED ANIMAL preparing to be let loose to kill a defenseless deer fawn.
He was banging first serve after first serve in with literally UNBELIEVEABLE regularity, accuracy and pace in his closing set. He was performing 100 mph forehand winners! It's like an extra-terrestrial had landed on Wimbledon's lawn and challenged 'your best earthling' to a 'tennis knock-about'.
I guess it was so weird because Rafa looked transfixed by his manic opponent, he could do nothing to stop the defeat. After every point, Rosol would literally grind his teeth like mad, he looked like he'd have chopped ANY OPPONENT into pieces with his racket as he claimed the fifth set.
Him being such a wild card, there's no saying where he's gonna end up in this competition but it was a totally stunning (and enjoyable) thing to watch.