Wilted Spinach Salad with Bacon and Avocado puts a lemony twist on the traditional lettuce salad with hot bacon dressing.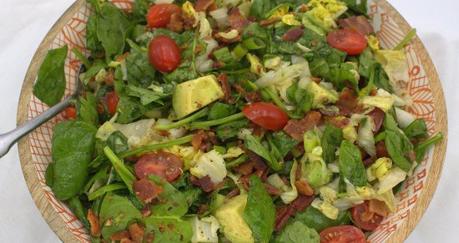 Wilted Spinach Salad with Bacon and Avocado
By Sue Lau | Palatable Pastime
Wilted Spinach Salad with Bacon and Avocado is my recipe of the day with the blogging group Improv Cooking Challenge. Each month we gather to create recipes using two unique ingredients.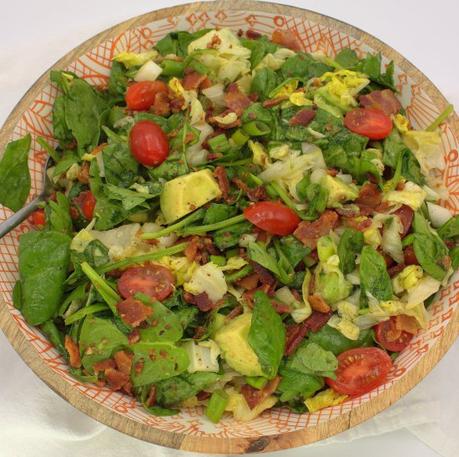 This month the challenge was to combine lemon and lettuce. My first thoughts were to the obvious salads.
And since it is Spring and I craved veggies, then yes! But with the pandemic I needed to get something I felt comfortable with someone else picking out, so I ordered some bagged baby spinach, iceberg lettuce, a carton of cherry tomatoes and some avocados.
I always have bacon anyway. I think there might be a law about that.
The onions I had from another shopping trip- and would need to use those up anyway. I will often shop for those and things like cilantro and parsley. With leaf lettuces I like to pick those myself- but recently opted for some bag mixes.
If there wasn't a health emergency going on, I might avoid those as they contain antioxidants and I would rather skip that if I could. But times being what they are, I acquiesced.
Improv Cooking Challenge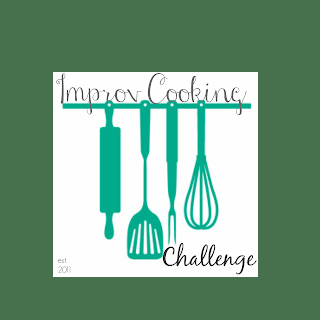 Wilted Spinach Salad with Bacon & Avocado

Bill and I ate this at home for lunch as a main dish salad sort of thing. He has been working on his laptop recently. There was extra as the two of us couldn't finish all of that even as a meal.

It won't keep until later so if you don't need this much, cut the recipe.