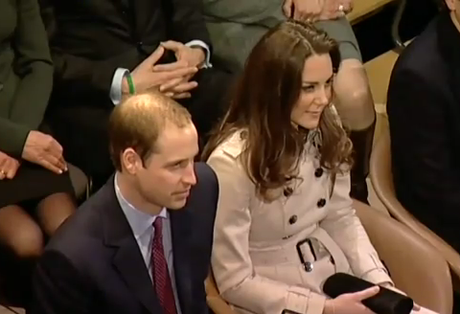 Prince William and Kate Middleton. Is she preggers?
The media spotlights on the Duke and Duchess of Cambridge: Kate Middleton's pregnant!  Really? Well, rumours have been circulating for weeks, as the wife of Prince William (third in line to the throne) was seen refusing peanut paste at a charity event in Denmark (gaining a "knowing" look from her husband) and rubbing her tummy. She's also recently reported to have refused champagne at a bash. The veracity of this story, however, is certainly in doubt.
From the horse's mouth? The pregnancy story comes from In Touch magazine, which claims that " a royal source" says that the Duchess of Cambridge has been with child for six weeks. The celebrity gossip magazine added that Queen Elizabeth II has been droppiong hints about "wanting a great-grandchild" for ages – to such an extent that Kate couldn't face her without "baby news."
They've chosen names and everything! They've also apparently been preparing not one, but three nurseries – two in Wales, and one in Kensington Palace. They've also apparently also picked names: "Edward, Philip and Michael" for a boy, and "Alice or Rose" for a girl. The gossip rag also said that William was particularly hoping for a daughter.
From the actual horse's mouth. Buckingham Palace, however, said rather firmly that "We do not comment on speculation."
"I'm pretty confident that, according to royal tradition, she'll be pregnant within the next few months. Every reigning monarch for the last 200 years has had a child within a year and a half; Diana was pregnant within three months," said royal biographer Andrew Morton at the time of the wedding.
Really, you'd hear it from Buck House first. Tom Sykes on The Daily Beast quoted the Palace further: ""We never confirm or deny these rumors. This is about the millionth [pregnancy] report we've had. If it were true, you'd hear the announcement from us and not a gossip magazine in the U.S." In Touch claims that their source is reliable, having correctly leaked the couple's honeymoon plans. Well, we'll just have to wait and see if K-Mid's reportedly looser clothing is really hiding a bump.