Family road trips can be extremely fun for the whole family, but the same can't be said for the traveling portion of the trip. Sure, the excitement might be alive and well during the beginning of the ride, but after a while, the boredom will inevitably set in and there won't be much else to do other than stare out the window or fall asleep. This is why bringing along something entertaining such as a portable DVD player or iPad can be fun for the whole family. Which should you bring, though?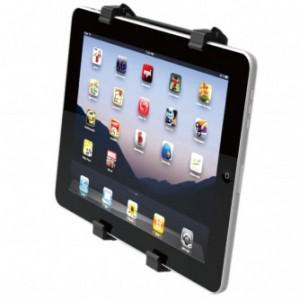 Both the portable DVD player and the iPad can provide hours of entertainment for the kids, as well as everyone else that's along for the ride. Both devices are capable of playing movies, which can make choosing between the two a hard decision. However, there are definitely some differences between the two that can make selecting one over the other a little easier.
A portable DVD player is a great choice for a few different reasons. This device is capable of playing many more movies than an iPad simply because there are more selections available on DVD. With an iPad, your selection in titles is limited to the provider and how many are available in digital format. Additionally, a DVD player is a lot more durable than an iPad which can really come in handy if you plan to entertain the kids with it. You can also expect to save hundreds of dollars on choosing a DVD player over an iPad as well simply because there are many different types, sizes and brands.
An iPad, on the other hand, could provide more entertainment options than a DVD player. The iPad is capable of playing a limited amount of digital titles, but is also capable of functioning similarly to a computer. With an iPad, a person can watch movies, play games, check hotel reservations and complete many other tasks that wouldn't be possible with a portable DVD player. It could also even someday sync with in-car entertainment systems like the Toyota Entune system. One of the iPad's major drawbacks, however, is that they tend to be very fragile and could easily be damaged in young hands.
Overall, choosing between an iPad and a portable DVD player for entertainment while on a road trip comes down to how you plan on using it and the age of the children. If you'd like a device that is simple, great at what it does, and durable, a portable DVD player would probably suffice for the road trip. On the other hand, an iPad can perform multiple tasks, but may suffer in terms of durability and the amount of possible options for movie-watching. Either option is sure to be better than not having one.
Author Jason Lancaster remembers long days in the car and wishes the iPad had been invented years ago. He works with, ToyotaPartsBlog.com, the place for up to date Toyota parts news.