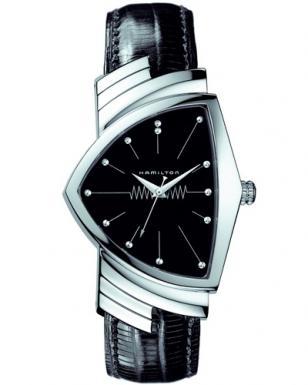 Will Smith wearing this Hamilton Ventura in MIB 3.
The summer blockbuster movie extravaganza is now upon us, and it is going to be a wild ride. Summer 2012 gives every indication that Will Smith in "Men In Black 3″, and Christian Bale in "The Dark Knight Rises" are two actors that will light up the big screen. As is the case with most actors and actresses, there is often fashion involved in each movie portrayal. Whether its jewelry or watches, there will be some accessory to tease the audience with.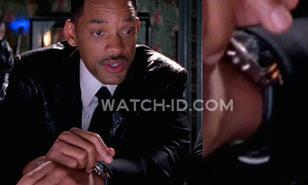 Will Smith in MIB 3
Take Will Smith in the MIB 3 movie, he will be adorned with a Hamilton Ventura that has a very high-tech look. Any of you science fiction fans out there, here is a watch just for you. What a design! The triangular design and its dark, sleek appearance fits nicely with the black suited universal police officer.
As for Christian Bale, he is wearing a more down to earth timepiece that has a lot of appeal while at the Academy Awards. His choice for the evening was the Harry Winston Ocean Dual Time watch.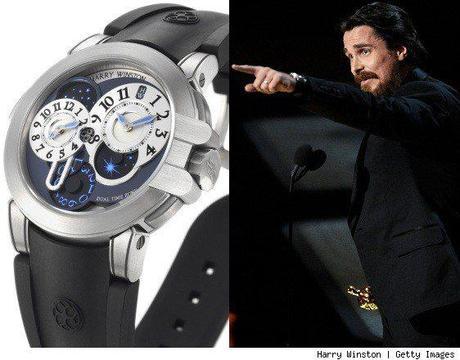 Christian Bale at Academy Awards wearing this Harry Winston Ocean Dual Time.
As seen in this image, the double dial watch in an Ocean style case is enhanced in appearance and function by day and night  indicator with a big date indicator as well. For Christian Bale, this suited him nicely as a real fashion show-piece, or should I say a fashion timepiece.
The Academy Awards were loaded with all kinds of fashions. But, to really have some fun this summer, watch for the watches in the summer flicks of your choice. Test your skills in identifying luxury watches, or just wait until you can read about them later in a blog.
Raymond Lee Jewelers is the place to check out all kinds of luxury pre-owned watches. They can find anything that you want and give you the best deal anywhere. Come in and visit us in Boca Raton, Florida or online to take advantage of our shopping options. We look forward to hearing from you!