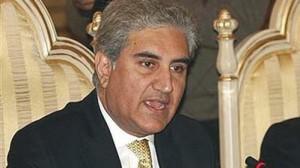 Pivotal Pakistan Tehreek-e-Insaf (PTI) leader Shah Mehmood Qureshi has said that his party will oppose the name of any caretaker prime minister who has had the affiliation with any political party.
While addressing to a press conference in Lahore on Thursday, Qureshi questioned that who has given the mandate to Jamaat-i-Islami to represent PTI on the issue of caretaker prime minister.
He said after PTI's 23 March mass rally on Minar-e-Pakistan, no party could do politics on lineal politics.
The former federal foreign minister said PPP's way is the way of gentry while PTI's way is the way of people. He said a new class of youth has been inducted in the politics and they will bring change in the country
Shah Mehmood rejected the Election Commission of Pakistan (ECP), saying it is helpless from every aspect. However, he said PTI will fully cooperate with ECP and will not place hurdles in its way.