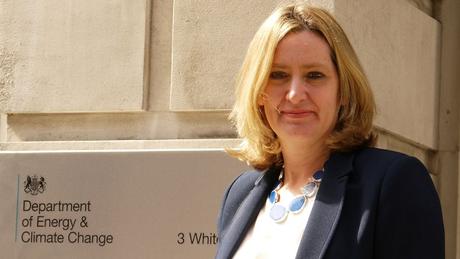 'Amber goes to Green' and 'Amber light for new energy minister' are examples of headlines greeting the appointment of the new secretary of state for Energy and Climate Change, Amber Rudd MP. The announcement this week was greeted with relief across the environment sector as some green commentators feared a Conservative government keen for cuts might dispense with DECC altogether.
As former Parliamentary under Secretary of State at DECC, her appointment allows for continuity of thinking on climate change and energy, as she will already be familiar with the challenging brief.
A former investment banker and businesswoman, Rudd was elected MP for Hastings and Rye in 2010. Her South East coastal constituency is notable for its poor transport links, deprivation and fishing industry, with much of the area at high risk of flooding.
Locally Rudd has actively demonstrated green credentials, gaining praise from Greenpeace for her work to defend local fisheries and end the wasteful practice of discards. She has also worked on behalf of communities blighted by intermittent flooding, as well as leading the successful campaign to keep May Day as a Bank Holiday as a supporter of Hastings' own epitomy of green in the literal sense – Jack in the Green held every May Day.
So, with a fairly impressive track record to date demonstrating active interest in a spectrum of environmental concerns, what implications might Rudd's appointment have for the solar industry?
Rudd is a business woman, and frequently invokes her commitment to Margaret Thatcher's stance as a scientist and the first world leader to openly recognize the challenge of climate change.
In a speech at Solar Energy UK in October 2014 she promised a bright future for solar with the caveat that this must be based on a sustainable financial footing. This came with an expectation of at least 10GW to 20GW deployed by 2020 by a cost competitive industry. To achieve this she placed the onus on industry to innovate and bring costs down, while setting out government commitment to lead by example by installing 1GW of solar on their own buildings.
Writing on Business Green just prior to the election Rudd stated that under the previous administration half a million homes had installed solar PV, reiterating its place in the renewable mix.
The renewables industry are positive about her appointment too. Nina Skorupska, Chief Executive of the Renewable Energy Association said "Amber Rudd has been a champion of renewables and the low-carbon economy in the past year, and her appointment will do much to allay the fears some may have after the general election".
Maria McCaffrey CE of wind and marine energy trade association RenewableUK is also upbeat "We are pleased to see continuity at the Department following her role as Energy Minister in the previous Government. We welcome the positive commitments which she has made on reducing carbon emissions, tackling climate change and protecting the environment.'
Even the environmentalists are cautiously optimistic with Greenpeace saying:"Amber Rudd's appointment as Secretary of State for Energy and Climate is a hopeful sign that the Government remains committed to implementing the Climate Change Act. Ms Rudd was a key player in securing vital reforms to the EU Common Fisheries Policy and championing a better deal for the UK's local, sustainable fishing sector. We look forward to her bringing the same drive and ambition to securing the clean and efficient energy future Britain needs."
So, while our new minister appears to have the will to serve the interests of the renewables industry, questions have been raised as to where she will find the means.
As a former investment banker and believer in business and markets as drivers of change, her business centred approach is at odds with the means that have been in place to drive the renewables market to date – in the form regulation, government intervention and subsidies. In particular, levies on fuel bills have funded the majority of energy and climate change policies.
So, while the signs are encouraging, it remains to be seen how the financing of a renewable future will look.
Compare solar prices in your area
Enter Your Postcode
Image Credit: The Department of Energy and Climate Change