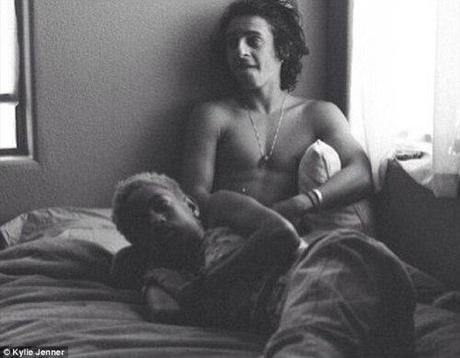 DailyMail: Eyebrows were raised when a photo of Willow Smith lying in bed with actor Moises Arias was noticed on one of Kylie Jenner's Tumblr accounts on Tuesday.
But the singer's parents – actors Will and Jada Pinkett Smith – have no problem with their 13-year-old daughter posing that way with the 20-year-old actor according a Wednesday report from TMZ.
A source said the Smiths, who are both in their 40s, think Willow is "old enough to make decisions on who she hangs with, even innocently in bed."
Sources close to the married couple said they think their daughter is "very mature" and think she has not "crossed the line." The black-and-white shots are and "expression of art," they believe.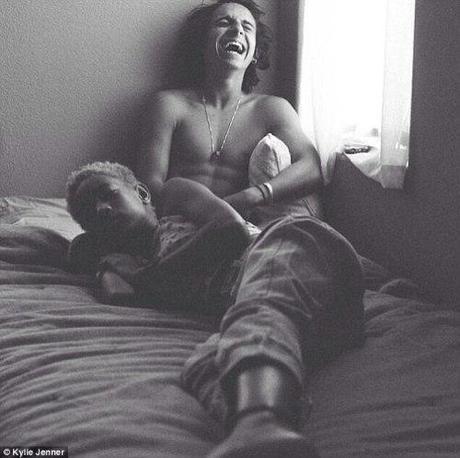 Moises is not a new face in the Smith family. The Hannah Montana star has been best friends with Will and Jada's 15-year-old son Jaden for many years.
Arias is seen shirtless as he leans against a wall while Willow lies on her side next to him, with her head resting on his arm. She is casually dressed in jeans and top, and  looks past the camera.
While the pair's behavior is innocent, the picture sparked a backlash from fans who said the setting was too mature for the young teen.  Arias allegedly posted the Instagram himself before deleting it – but not before his fans reposted it.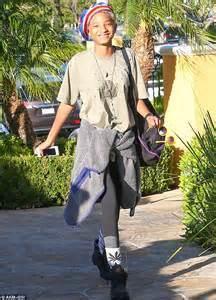 The "very mature" 13-year-old wearing marijuana socks.
Willow has drawn criticism in the past for dressing older than her years and for dressing older than her years and for producing music that some say is too mature.
Willow is being raised in an alternative fashion by her parents and previously said in an interview: "I never really get to go to school because I am always on tour or with my father."
"There is a tutor most of the time, but usually I am working so I never get to do the lessons. The worst thing about math is all the kids are ahead of me because they go to school."
She revealed to V magazine: "I just wanted to chill, and be at home, and decompress, and just find out what I wanna do and where I stand on this planet, with the little tiny place we have. I just feel like I want to do it different than the world's ready for."
Jada responded to the criticism:
"Jada Pinkett Smith wants people to get their minds out of the gutter. "Here's the deal: There was nothing sexual about that picture or that situation," Jada replied sternly, shaking her finger. "You guys are projecting your trash onto it, and you're acting like covert pedophiles, and that's not cool."
Jada and Will Smith have a laidback parenting style. The "Men in Black 3″ actor said last year that they don't punish their children — also including son Jaden, 15. (Will also has a 21-year-old son, Trey, from his first marriage.)
"The way that we deal with our kids is, they are responsible for their lives," he told Metro last year. "Our concept is, as young as possible, give them as much control over their lives as possible and the concept of punishment, our experience has been — it has a little too much of a negative quality."
DCG