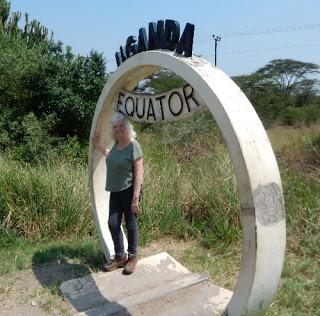 Ann Paul on the Equator in Uganda
My friend and fellow children's book writer Ann Whitford Paul recently went with her husband Ron on a trip to Africa, where they did some amazing wildlife viewing in Uganda and Tanzania. Her pictures bring back memories of my own trip to those countries in 1971. Although much has changed since then, the wonder of seeing animals at home in their natural habitat is still the same. Here is a photo tour of some of the highlights of Ann and Ron's trip.
Lucky us!Our son Alan lives and works in South Africa and he and his partner Fay just had a baby girl.What a great excuse to travel to our favorite continent!Here's the proud and happy new family.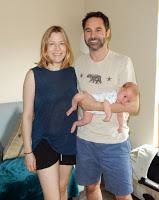 Fay, Alan and baby Thea
Thea, just one month old, wasn't yet sleeping through the night, so, not wanting to overstay our welcome and wear out the new parents more than they already were, we took off for a safari in Uganda....where coffee grows with abundance.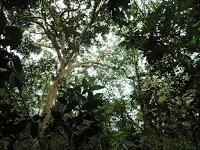 In Uganda we trekked through dense woods like this for an up-close and personal look at chimpanzees.Unfortunately, I had camera problems, so most of my pictures ended up as trash.These are the best.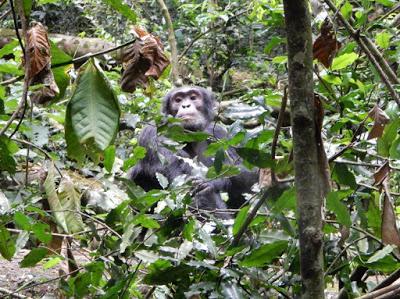 Feeling confident in our endurance abilities that afternoon we walked several more hours around a wetlands. The sights included this baboon who was enjoying some corn stolen from a farmer.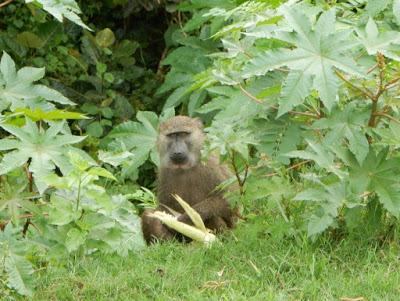 Doesn't this look like a Rousseau painting?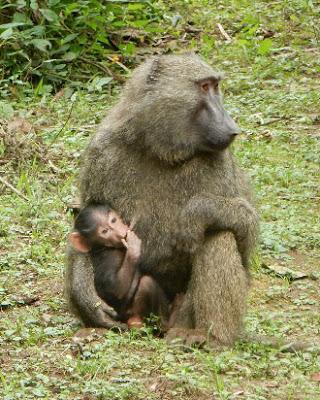 I also love this picture of a mom and her nursing infant.
Bananas are a staple in Uganda.These green ones (called matoke) being sold at a busy market day will be cooked in stews and also used to make an alcoholic drink (pombe).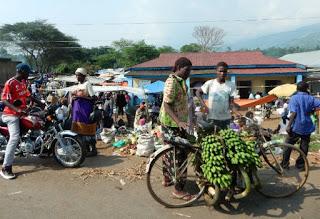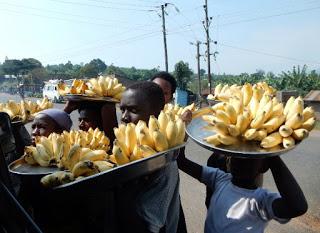 Francis, our knowledgeable guide was barraged with banana sellers.The bananas meant for eating raw are half the size of those in the states and much sweeter.In Queen Elizabeth National Park in western Uganda, we watched two male Uganda kob fight for rights on their mating territory (called a lek).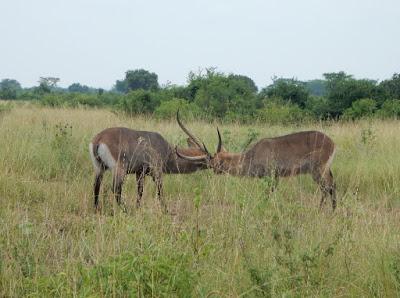 Uganda kob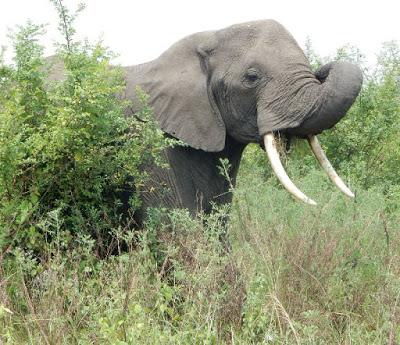 An elephant eating.What an appetite!

To be continued:
Next is our boat cruise on the Kazinga Channel in Queen Elizabeth National Park and then our trek to see the gorillas in the mountains of Bwindi impenetrable forest.
You can find out more about Ann Whitford Paul and her books at www.annwhitfordpaul.com .