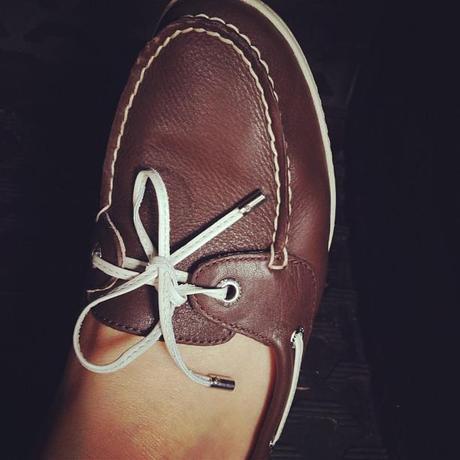 If you follow TWT at all, you probably know I'm obsessed with boats. You also probably know I have a sweet spot for shoes, preferably flats. Therefore, it probably won't shock you to find out that I love Sperry Top-Siders, the ultimate boat shoe, the ultimate gripper of teak and fiberglass decks alike.
The first pair of Top-Siders I ever bought marked a big occasion in my life: my first job, apprentice sailing instructor at the Rockport Boat Club, where I'd learned to sail. As far as I was concerned, sailing instructors were the pinnacle of cool. Their skin was perpetually tan (and sometimes red) from hours in the sun, their hands were blistered and tough, their red shorts had faded to a salmon color, they could rig and derig a boat faster than I could even tie a knot, and they exuded a confidence that I yearned to embody (more after the jump).
So, at the age of fourteen, I applied for the lowest position at RBC. The pay was $2.50 an hour, but my living expenses weren't terribly high (meaning nonexistent, thank you, mom and dad), and I just wanted to do what I loved. But disaster struck. I didn't get the job because there were already too many girl instructors; they chose a boy. I was devastated.
I volunteered that summer at RBC anyway, and I also started my own jewelry business, selling my wares at the farmer's market every Saturday (even making a pretty tidy profit). My perseverance at RBC paid off, because the following year I got the job. Which brings me to my boat shoes.
I knew I needed to look the part. I already had the sun-faded life jacket, the polarized sunglasses, and the blistered hands. My feet, however, were definitely lacking in instructor-worthy gear. While I always went barefoot on the boats, I felt that it would probably be best to at least show up to work wearing shoes, and my beat up old Teva sandals, as practical as they were, would just not do. Not if I wanted to kill it in the instructor image department.
My dear mother, being as understanding as she is, took me to Maine Sport, the local outdoor/camping/shoe/store-where-dreams-come-true in Rockport. I knew exactly where the boat shoes were; I'd spent summers staring at them longingly when I accompanied my parents to buy frisbees for the dog or to tune up our kayaks. A sales associate brought me my correct size, my mother so kindly paid for them (as I promised over and over to pay her back once my meager salary amounted to something), and I walked out of the store a little taller and a little closer to the confidence I hoped instructorhood would bring.
It's now ten years later; I went on to teach at the boat club for eight summers after that first one, running the program for three of them. I'm still an avid sailor, and I still have those beat-up old boat shoes (it turns out there are perks to having huge feet as a teenager). They have holes in them, but when I hop on a boat, they're often on my feet. Old habit die hard.
Last weekend I stopped by Maine Sport and found myself standing in front of the Sperry's display. There was a lovely new model I hadn't seen before, and I asked to try them on. As I slipped my feet into the familiar foot bed, I flashed back to the excitement, joy, and anticipation with which I'd put my feet into my first pair. I'm not sure what this next chapter of my life will bring, just as I didn't know that first job I took would lead to years of blissful summers spent in boats.
I bought the shoes and walked out of the store feeling a little bit taller.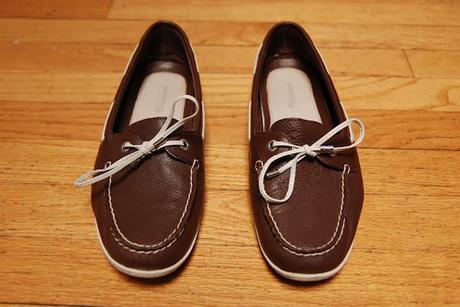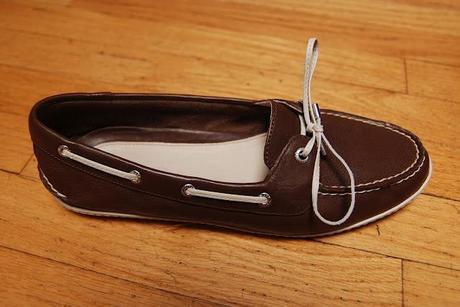 What I wore with the shoes: