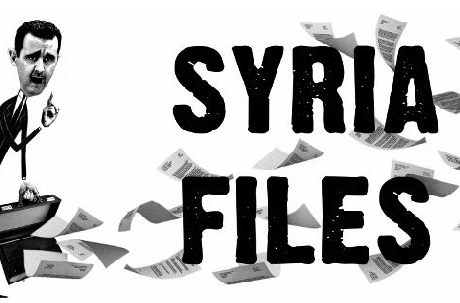 WikiLeaks release Syria files. From the WikiLeaks site.
The background
WikiLeaks is publishing over two million emails in several languages from Syrian government officials, including politicians, ministers, and other companies, sent between August 2006 and 2012. The whistleblowing organisation claims that these communications will shed light on the Syrian government, and in particular will expose the hypocrisies of Western companies. 68,000 of the emails, reported The Daily Mail, are in Russian – Russia is one of Syria's biggest allies. The emails are being released in waves, and comprise eight times as many as the ones issued in Cablegate, the US diplomatic cables which embarrassed the US government over Afghanistan and Iraq. You can read the files here. WikiLeaks hasn't yet been able to confirm the veracity of all the emails. Julian Assange, its founder, is still in the Ecuadorian Embassy in London, avoiding deportation for alleged sex crimes. Watch the WikiLeaks announcement below.
The uprising in Syria has now become more like a civil war. The opposition claims that 15,000 have been killed. The government says it's the work of terrorists. The leaked emails come on the same day that over 100 countries are meeting in Paris to decide what should be done about Syria. Russia and China (two of Syria's most important allies) are not attending. One of the Syrian generals, Brigadier General Manaf Tlas, has defected to Turkey – the highest level defection since the rebellion began, reported the BBC. At the time of writing there are strong signs that the Friends of Syria are calling for President Bashar al-Assad to leave.
"The material helps us not merely to criticize one group or another, but to understand their interests, actions and thoughts. It is only through understanding this conflict that we can hope to resolve it," wrote Wikileaks founder Julian Assange in a statement, quoted on The Daily Mail.
Western companies worked with the Syrian government even under sanctions
Sean Gallagher on Ars Technica said that whilst the USA and Europe were imposing sanctions on Syria, Western companies continued to work with the Assad regime. The first wave of documents shows how SELEX, (part of Finmeccanica) an Italian networking vendor, and Ingracom, a Greek company, worked around sanctions to finish a project in Syria – which was a secure radio network for the Syrian government.  The Telegraph reported that in February this year Selex engineers went to Damascus to train people how to use their systems.
The volume of the leaks is too great
Alexander Abad-Santos on The Atlantic Wire said that he was "excited" about the dump, but wondered how anyone would be able to find anything. Apparently there's a search tool – but how do we know what we're searching for?
Wikileaks shows the relationship between government and corporations
Charles P Pierce on his Esquire blog said that WikiLeaks shows how "governmental power and corporate power are gradually becoming indistinguishable from one another." Whilst nobody ill have "much sympathy" for the Syrian government's embarrassment, that of the West will be "vigorously salved."
"Assad must go", France's President Hollande tells representatives from 100 states at Friends of Syria meeting in Paris bbc.in/Na1jCx

— BBC News (World) (@BBCWorld) July 6, 2012
Watch the press conference here