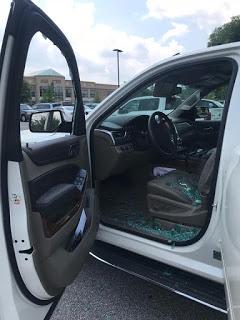 Regina Newsome's vehicle after
being vandalized.
The wife of Birmingham attorney Burt Newsome recently was the victim of vandalism and theft from her vehicle while it was parked at a fitness center in Vestavia Hills,
according to  report at banbalch.com
.
Regina Galiulina Newsome apparently was targeted while at Lifetime Fitness for a tennis lesson,
according to her Facebook page
. The incident, on July 30, came nine days after
former Balch Bingham partner Joel Gilbert was convicted of bribery
in the North Birmingham Superfund scandal. It also came after
reports of a possible RICO (Racketeer Influenced and Corrupt Organizations) lawsuit
related to
Balch's efforts to essentially steal Burt Newsome's lucrative collections practice and ruin his law business
.
Was Regina Newsome targeted in an effort to intimidate her husband into forgoing a RICO lawsuit that could expose some prominent political figures -- including former U.S. Senators Jeff Sessions (now Trump attorney general) and Luther Strange, plus
Strange's one-time mistress and  campaign manager, Jessica Medeiros Garrison
?
Just yesterday, we learned from
excellent reporting at Mother Jones
, that Sessions and his office coordinated their attacks on the Environmental Protection Agency (EPA) in the Superfund case, working more closely with Balch than was previously known. Does that mean Sessions, too, could be connected to the intimidation campaign against Burt Newsome and his wife? That certainly is a reasonable question to ask.
This all hits close to home because I was the victim of an even more outrageous intimidation effort. In fall 2013, I essentially was kidnapped from our Birmingham home -- deputies unlawfully broke into our home (without stating they had a warrant or showing a warrant) and beat me up and arrested me on a civil matter, with not even of whiff of a criminal allegation. It was related to my reporting on this blog about the "close relationship" of GOP politico Rob Riley and lobbyist Liberty Duke, so I essentially spent five months in the Shelby County Jail for blogging -- apparently the only U.S. journalist in history to be so targeted. The bogus arrest caused us to lose our home of 25 years to a wrongful foreclosure.
Ironically, both my arrest and the Regina Newsome smash and grab came as concerns about possible RICO cases against right-wing political figures were circulating in news accounts.
We have no doubt Strange and Garrison were involved in my arrest, plus the theft of our home, and we would not be surprised if Jeff Sessions and his protege, U.S. Judge Bill Pryor, also were involved. We have pending federal-court cases -- The Jail Case and The House Case -- in both matters.
Attacking someone's wife is not a new tactic for these thugs. Riley and Duke sued my wife, Carol, for defamation -- even though she had nothing to do with my blog at the time. Deputies tried to arrest Carol the same night they broke into our garage and arrested me -- and they made several more visits to our home, trying to arrest Carol, after I was in jail. Each of those efforts failed, and Carol remained free to contact the press and turn my arrest into a national story. 
What happened in the Regina Newsome vandalism/theft case? It's peculiar on several levels, as
banbalch.com
reports:
With a RICO civil suit on the horizon and the conviction of Balch and Bingham equity partner Joel I. Gilbert on six federal counts, maybe it was time to take a look at the matter again with fresh eyes.


Who knows.


Then yesterday, two thugs targeted the wife of Burt Newsome who had gone to her gym. Video surveillance of the incident shows the suspects driving around allegedly specifically looking for Newsome's vehicle.




After seeing the actions by the thugs, law enforcement's first question to Mrs. Newsome was, "Do you have any enemies?"
Signs abounded that this was a planned, coordinated attack:
The suspects who were in a vehicle with no license plates sought out and then simply broke into and only Newsome's vehicle. Highly unusual, the incident occurred in a parking row near the visible entrance of the fitness club, a rarity.

The thugs had not even looked in the car before busting the window out. Her purse was stolen, yet none of the credit cards were used or attempted to be used. Nothing else in the car (phone charger, etc.) was taken. The purse was hidden under the passenger seat.


What were these thugs looking for? Her mobile phone? Her personal information?
Or were they simply sending a message of intimidation or fear?
All that was missing was a horse's head.
Notice the reference above to a looming RICO case. Is that the reason Regina Newsome was targeted? Based on personal experience, I'd say the answer is yes. Someone concocted a scheme in fall 2013 that made it look like I was pushing for a RICO lawsuit, on behalf of progressive activist Brett Kimberlin, against the right-wing National Bloggers Club, led by GOP and Karl Rove-affiliated felon Ali (Akbar) Alexander. It all grew from comments left at the Web site
Breitbart Unmasked
, by someone calling himself "RogerS."  Conventional wisdom in right-wing circles was that I was "RogerS," and this was just days before my arrest. In fact, I was not RogerS, and I had no involvement in the Kimberlin matter.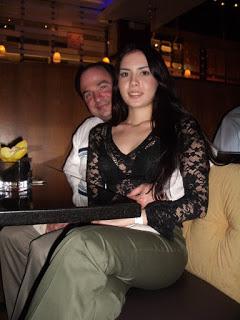 Burt and Regina Newsome
The Regina Newsome attack sounds like the work of organized criminals. Borrowing on reporting at
banbalch.com,
we've helped show that Luther Strange and Jessica Garrison have ties to the effort to undermine her husband's law practice. Quoting
banbalch.com
:
We have reached out to federal authorities and have asked them to investigate U.S. Senator Luther Strange's involvement in alleged corruption and the trampling of the Civil Rights of Burt Newsome, a father of four young children who was wrongly targeted, falsely arrested,
and defamed by one of Strange's most ardent financial and political supporters, the embattled law firm Balch Bingham.
Strange has received tens of thousands of dollars from Balch Bingham or political action committees funded by Balch Bingham partners. Strange's top political advisor and former campaign manager, Jessica Garrison, was "of counsel" at Balch until this past spring, a known revolving-door for political operatives.


What revolts us most is as Alabama Attorney General, Strange gave a helping-hand—just a year ago—to an alleged criminal conspiracy that trampled the Civil Rights of Burt Newsome, a father of four young children who was railroaded with a capital R.


According to court filings, Newsome, a small-town attorney in Alabama, was falsely arrested and defamed by the alleged co-conspirators including Balch Bingham which allegedly had a financial objective: to obtain Newsome's lucrative banking collections business.




In April of 2014, the criminal case against Newsome collapsed and was eventually expunged from court records. But almost a year later after the expungement, in June of 2016, another judge, with allegedly no knowledge of the details of the case, reversed the expungement and opened the contents of a case that no longer existed, declaring that the previous judge (since retired) had erred.


Incredibly, Newsome was allegedly barred by court officials from filing a brief or petitioning the court at that time.


Raising eyebrows and expanding the web of possible collusion, two months later, in August of 2016, then-Attorney General Luther Strange filed a brief in support of the resurrected expungement, citing and regurgitating the order signed by the new judge.




Observers could not understand why his office would ever get involved in a matter like this, especially since the brief looked like a simple "cut and paste job." The reason was Balch Bingham and other co-conspirators wanted to use the false criminal accusations in a civil case that the co-conspirators looked like they were losing against Newsome.
Someone on the Alabama legal/political scene has a habit of going rogue when they feel threatened by a RICO lawsuit. Evidence suggests they did it in my kidnapping and incarceration. I suspect some of the same people are responsible for the trashing of Regina Newsome's vehicle.