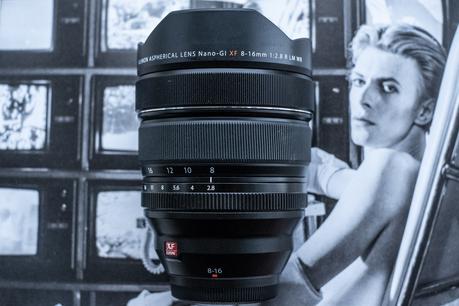 The Fujinon XF8-16mm F2.8 lens being eyed by David Bowie in The Man Who Fell To Earth (the lens is lying on the Taschen book about the movie!).
Fujifilm released the long awaited Fujinon XF8-16mm F2.8 ultra wide-angle zoom lens last year and I have one on loan at the moment from the wonderful people of Fujifilm Nordic. These are just my first impressions after using it for about 4-5 different gigs. It is going to be a really random post, come along for the ride and do read all the captions for thoughts and explanations on the various images here.
I absolutely love using wide-angle lenses, and my favourite lens is the XF16mm F1.4 which I use for more then 50% of all my pictures, here is my big blog post saluting the 16mm lens. So bear in mind reading this short review, that I am using this 8-16mm zoom pretty much only in the 8-10mm area. It has no usage for me above that, anything close to 16mm and I will use the 16mm F1.4, also because the 8-16mm is only an F2.8 lens. I often shoot in super dark environments where you can only just get a usable image shooting around 1/50 sec at ISO 12,800 and F/1.4 so F2.8 is just not possible in places like that.
There are plenty of concerts and outdoor festivals with lots of light where shooting at F2.8 or higher is no issue at all. At concerts you can often find yourself in spots where you really need an ultra wideangle lens. In a photo pit for example with the artists right in front of you. Or you are trying to capture a massive venue or festival tent and you need a really wide angle of view and you just cannot get far enough back in the venue or tent. The 16mm F1.4, with about a 83 degree field of view, is often just nowhere near wide enough for this, so the 8-16mm really has a purpose in those tight spots.
The lens is not a fisheye. It is quite remarkable that is has straight lines and zero distortion even at 8mm. This is great for shots of venues and any kind of architecture, landscapes, real estate etc. But as I discovered, it is often not what I want when standing in a photo pit. If I have to go really wide, I need more of a fish-eye view. See my paragraph on "reverse lens distortion" later in this blog post. If you are getting this lens purely for concert photography, test it out first to see if you like it, it is a matter of taste whether the zero distortion is a plus or minus for you. It does work pretty good for cropped panoramas, which is something I love shooting. And yes, bear in mind, I generally don't like making straight and clean images anyway, so if there is no distortion nor grain I will add some!
I must admit my first thought when using this lens was that it was much bigger than I like a lens to be. If you only shoot concerts from the photo-pit it is less of an issue. But at least half of the shows I shoot, I am on stage, in the DJ booth, I need really small and light lenses to be able to easily get around and squeeze through tiny spaces without knocking shit over. I also need small and lightweight cameras and lenses so I can reach out and shoot one handed. This is why my '2 cameras, 2 lenses' setup with my X-T3, X-T2 and 16 and 35mm lenses is by far my preferred way to work. I don't even carry a camera bag at those kind of gigs, there is often no space. So for me, using a lens this large is not ideal and it makes it more of a specialty lens for me.
Enough nonsense from me, let's look at pictures. And yes, as always, I love high ISO grain, noise reduction is pure evil! Embrace the grain! There is lots of info in the photo captions and a conclusion coming up a few meters down the page!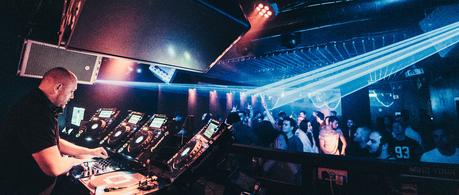 By far the best cropped pano I made with the lens! Just a bit of negative lens distortion added to bring that center part of the image forward. This is Tim Andresen playing some 4/4 beats to the floor at Culture Box in Copenhagen. Lens Distortion at minus 44 in Lightroom. Fujifilm X-T3, XF8-16mmF2.8 R LM WR at 8 mm. ¹⁄2₅ sec at ƒ / 2,8, ISO 12800.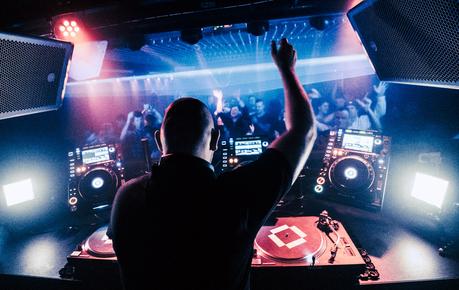 Tim Andresen playing at Culture Box in Copenhagen. This is a perfect spot to try out ultra wide-angle, in this case 10mm as the DJ booth is so small I cannot even stand directly behind him, I am holding the camera in one hand behind his head! There is also a lot more light here than normal in Culture Box as Nimsound was video recording it so Kasper of Nimsound had these lovely video lights that meant I could actually make an image at F2.8. Fujifilm X-T3, XF8-16mmF2.8 R LM WR at 10.4 mm. ¹⁄₃₅ sec at ƒ / 2,8, ISO 10000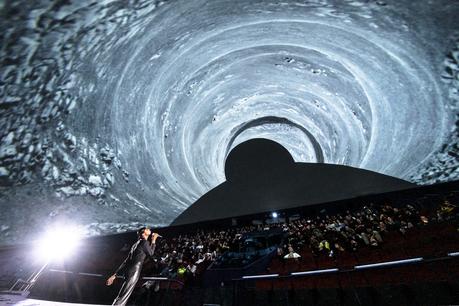 The artist Jeuru performing at the Planetarium in Copenhagen. A good place for an ultra wide angle lens as this is a dome OmniMax theater. Fujifilm X-T3, XF8-16mmF2.8 R LM WR at 8 mm. ¹⁄₆₀ sec at ƒ / 2,8, ISO 12800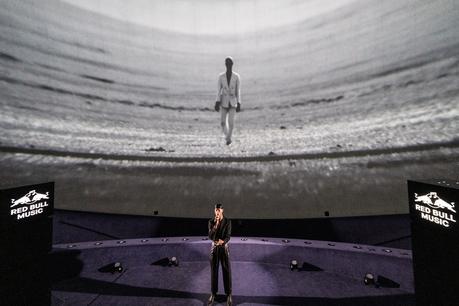 Jeuru at Planetarium in Copenhagen for Red Bull Music. Here, the straight lines work well. I think I only slightly straightened the image and did a small bit of negative lens distortion. Fujifilm X-T3, XF8-16mmF2.8 R LM WR at 8 mm. ¹⁄₆₀ sec at ƒ / 2,8, ISO 12800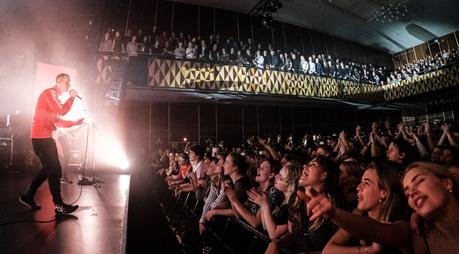 The Minds of 99 in Copenhagen. I found the lens great for making cropped panoramas! This has some fish-eye effect added to the image in Lightroom as otherwise the center is pushed so far away. Fujifilm X-T2, XF8-16mmF2.8 R LM WR at 8 mm. ¹⁄₆₀ sec at ƒ / 2,8, ISO 8000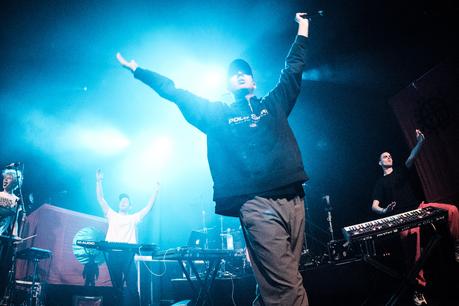 Emil Kruse and band in Copenhagen. A lot of fish-eye (negative lens distortion) applied here to bring him back into center. Fujifilm X-T2, XF8-16mmF2.8 R LM WR at 8.3 mm. ¹⁄₂₈₀ sec at ƒ / 2,8, ISO 10000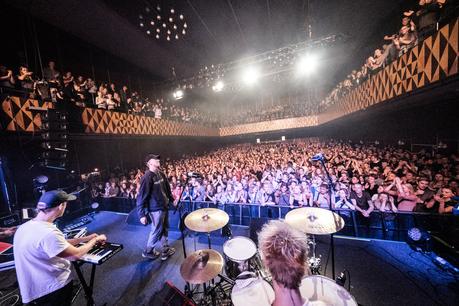 Emil Kruse and band in Copenhagen. This is more of a venue shot and the straight lines work well here. Fujifilm X-T2, XF8-16mmF2.8 R LM WR at 8 mm. ¹⁄₁₀₅ sec at ƒ / 2,8, ISO 10000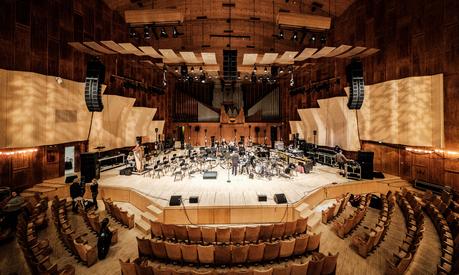 Rehearsals with Den Sorte Skole and Copenhagen Phil at the incredible Radiohusets concert hall in Copenhagen. This is uncropped, no lens distortion, no straightening! You can see here just how straight the lens is at 8mm! Fujifilm X-T3, XF8-16mmF2.8 R LM WR at 8 mm. ¹⁄₁₇₀ sec at ƒ / 2,8, ISO 6400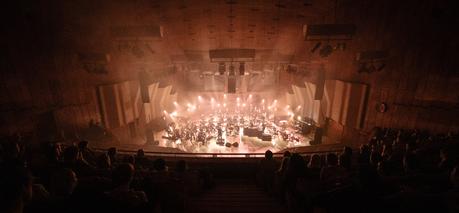 Concert with Den Sorte Skole and Copenhagen Phil. Again, I only cropped this, in a venue like this it works well to have zero distortion. Fujifilm X-T3, XF8-16mmF2.8 R LM WR at 11.4 mm. ¹⁄₁₄₀ sec at ƒ / 2,8, ISO 8000
Lens Distortion in reverse! When to "fisheye it" and when not to!
This lens has pretty much zero distortion, making this a great lens for any sort of architecture photography I assume. Point the lens straight at some buildings and zoom from 8mm to 16mm and back and notice that all lines are straight in the entire zoom range. Very impressive. But here is the weird part, in my case I quite often want a lot of lens distortion! For shooting a venue of course, the straight lines are great. But to keep lines straight in a 2D image at 8mm the lens naturally have to push the center of the picture really far away, and keep the edges of the picture really close to you. A lot of times, I have for example the DJ or singer in the middle of the frame and I don't want the center of the image pushed so far away, I want a lot of fish-eye effect and don't care that all lines become mega warped. So I add lens distortion in post! Fujifilm made this engineering wonder and I am totally destroying the image quality by adding lens distortion! Well, at least I have that option and I am assuming it is probably easier to add distortion in post than to take it out, although I don't know as I do not have a fisheye lens. Just be aware that for concert photography, completely straight lines may not be what you want because it comes at the cost of pushing the middle of the image so far away. Let me show you a few examples: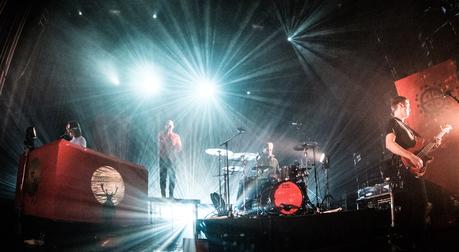 Distorted! I set Lens Distortion to minus 70 in Lightroom and also straightened the image. This gives me much more of a fisheye view and is what I want for this type of image. Fujifilm X-T2, XF8-16mmF2.8 R LM WR at 8 mm. ¹⁄₁₀₅ sec at ƒ / 2,8, ISO 8000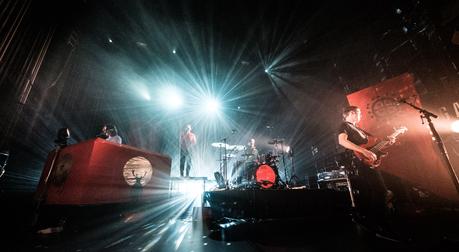 Here is the same image as shot in camera, with zero lens distortion and no straightening. Notice how the lines are all straight, but the center is so far away now, and I had to point up a bit as I am in the photo pit so it also has a heavy lean. I much prefer the first image with the lens distortion and straightening. Fujifilm X-T2, XF8-16mmF2.8 R LM WR at 8 mm. ¹⁄₁₀₅ sec at ƒ / 2,8, ISO 8000
And to counter that, let me show you a picture where you WANT straight lines and zero distortion. This was shot in Stockholm and all those perfect straight lines works wonders here for a cinematic crop one-point composition.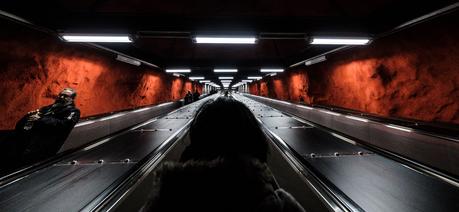 Finally, let me show you the type of ultra wide-angle pictures I love. This is from Neal Preston's absolute amazing book Exhilarated and Exhausted and the perfect usage of a fish-eye: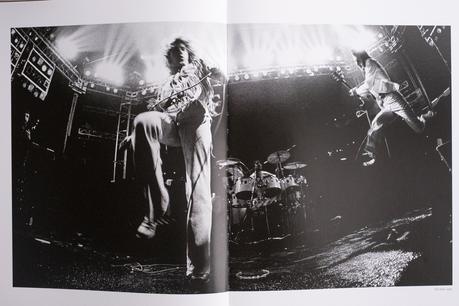 Neal Preston shooting The Who, from the book Exhilarated and Exhausted and a masterpiece of a fish-eye picture. The best book on concert photographer ever made from the best concert photographer ever.
Conclusion
If you made it this far I am sure you are just glad this post is ending soon! As usual, the conclusion is I have no conclusion! There are some situations where this lens works really well for me. The build, the image quality and the zero distortion is amazing. Auto-focus is pretty fast too. But for how I work, I feel it is at times too big and heavy and often the zero distortion is the opposite of what I need. I know, I am impossible to please and work in mysterious ways (someone should use that for a song title!). In short, it is another outstanding Fujinon lens, but for my type of live photography it is a mixed experience so far. There are things it does well and things I dislike. If you are a concert photographer, definitely try it out. You may find it is exactly what you want or it may not quite fit you.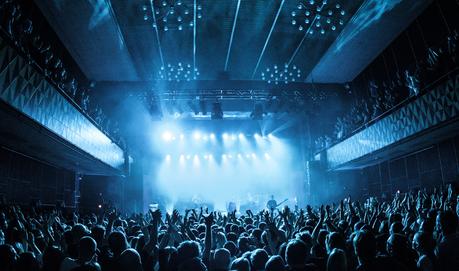 The blog post has ended and the crowd goes wild! This is The Minds of 99 in Copenhagen at 9mm – slightly distorted of course, because I just have to, I dislike straight images anyway

The End !