Kids are always looking to draw and paint. If they can't find a paper or run out of marker ink, they'll turn the walls into a canvas, but they'll never stop. What if there's a dry-erase board that lets kids draw for as long as they like without any markers, ink or even chalk?
Wicue Writing Board does just that and more with its innovative flexible liquid crystal film technology, which allows kids to draw on the board with virtually anything, even with their fingers and erase everything with just a touch of a button. This smart writing board can be controlled via your iPhone and Android phone. But, the best part is there's no dust, or markers involved.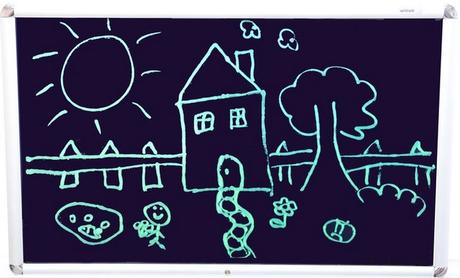 Wicue uses a high brightness high contrast, anti-glare display to make drawings much clearer and even allows kids to send their work to a smartphone to save, edit and share with friends. Wicue is also capable of running a full year with just 2 AAA batteries.
Read Also: The Hendo Hoverboard Kickstarter Surpases its $250k Goal
Wicue Inc., the startup behind this project is seeking $100k on Kickstarter to bring this incredible dry-erase board into production. For a pledge of $89 you could get a 20in x 16in Wicue board, $40 off retail price. It's also available in sizes up to 2m x 1m.
(All images, trademarks shown on this post are the property of their respective owners)
Follow @nrjperera – Roshan Jerad Perera