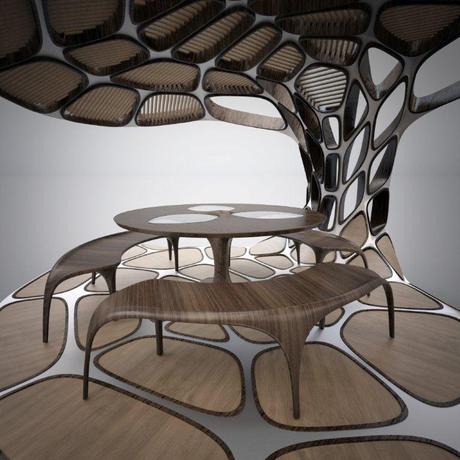 Volu Dining Pavilion by Zaha Hadid and Patrik Schumacher 
One of the first unveiled designs features curvy wood dining furniture nestled inside a metal structure in the shape of an oversized open clamshell. Backlit by purple-toned LEDs, Volu embodies the sci-fi effect typical of Hadid's work. Each Volu Dining Pavilion, to be be produced in an edition of 24, will go for $480,000. 
During Design Miami/ 2015, Revolution founder and real estate mogul Robbie Antonio unveiled the Volu Dining Pavilion by Zaha Hadid, a semi-enclosed dining room set that will be produced in an edition of 24. You can order one of your own to be shipped to and assembled at the location of your choice for $480,000.
"It's what prêt-à-porter is for haute couture," Antonio, who typically deals in multi-million-dollar properties, explains. "I wanted to change the game of real estate."
With an ever-growing roster of designs by high-profile names, he plans to unveil a new prefabricated design every few months; the next stop is the Salone del Mobile in Milan in April, with the possibility of Design Miami/Basel and the Venice Architecture Biennale to follow. In addition to architects, Antonio has also commissioned artists and designers like David Salle and Marcel Wanders to create homes fully pre-equipped with plumbing and electricity, marking the first architectural project for many of them.
"I wanted to challenge them to think beyond sculptures and interior design," says Antonio. "Marcel Wanders told me, 'I'm not an architect, but I wanted to build a house that no architect could do.'"