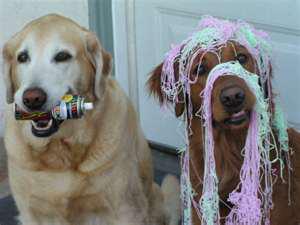 You know the feeling: The panic, anger or embarrassment of your dog's sudden dramatic change of temperament. Maybe he lunges and barks at a passerby while out on a walk. He runs and nips at your guest's leg after two hours of calmly laying by your feet. Or perhaps he randomly tears up your couch pillows when you're at work. But of course (and this is the key) he doesn't do it all the time. How the heck do you stop something like THAT?
First, it's important to understand that "unpredictability" is not a characteristic of the behavior, but rather of your challenge in understanding it. That's not really your fault. You aren't a dog, after all.
The good news is that dog behavior does follow rational patterns, and they give us lots of signals about what they're thinking and feeling. All it takes is a trained eye to identify problems before they happen. Dog behavior makes sense when you know how to think like a dog, and chances are you already know a lot more than you might imagine.
Consider these typical scenarios:
Has your dog ever suddenly asked to be fed "for no reason at all?"
How many times have you thought your dog wanted you to pet him "out of nowhere?"
Were you totally baffled as to why your dog wanted to play?
These all sound like silly questions for two reasons. One, they are considered normal behavior, so you don't think about identifying a cause; the behaviors are expected, and they make sense. Two, the consequences of these behaviors don't bother you, so you don't give them much thought.
Your dog's desirable and otherwise non-offensive behavior is easy to explain because it fits pretty much into the same set of patterns that your own behavior does. You want more of the things you like, so you act in ways that help you get them. Naturally, your dog does the same thing.
So what about the times when you want LESS of something? Here's where the confusion starts between you and your dog. When we humans don't like something, it is usually within our control to avoid it or do something about it. We have options. Our dogs, however, have very few options when it comes to "fixing" a problem situation– barking, growling, biting, or throwing a destructive tantrum to let out some stress. This leads us to the second major revelation.
Your dog's behavior isn't the real problem. His behavior is a symptom of the problem. The real problem is that he feels stress, anxiety or fear and he doesn't have an effective way of dealing with it. Not only are we humans generally bad at empathizing with our dogs' emotional needs and perceptions about the world in order to make proactive adjustments, we don't usually allow them to exercise healthy options when they do become upset. In other words, we tend to cause our dogs to act out.
Because we don't naturally act like dog leaders would act, and we don't tune into the kinds of things that concern our dogs, it's common for them to gain a feeling of authority and responsibility when it comes to "taking care of" the family. That feeling of responsibility is often the dog's pretext for having to worry about things. For most dog owners, this issue never even occurs to them.
Are dogs likely to show that they do feel stress about their perceived responsibilities? Absolutely! Unfortunately, those signs are seldom broadcast at us like a big wagging tail and a happy smile. Stillness, hesitant movements, staring, darting eyes, pursed lips, a tucked or stiff tail are among the signs of stress that we can easily overlook.
When an owner does notice stress, he may very well discount it with a verbal rationalization that does nothing at all to calm the dog, and may even cause the situation to escalate: "Oh it's OK, Fluffy, Jim is a nice guy. Go ahead, Jim, you can pet him." Chomp.
Having worked with countless "problem dogs" who were considered "untrainable," I can tell you with confidence that your dog probably isn't crazy at all. You just don't have all the information about what he thinks and feels, and that's what makes him seem so unpredictable. So don't give up hope!
An experienced dog behaviorist who specializes in problem behavior can help you shift the dynamic in your household by teaching you how to gain a canine perspective. This allows you to reduce your dog's stress and eliminate the causes of problem behavior in the first place. Good training is a holistic process that is just as much about the owner as it is about the dog.
Albert Duran is a term life insurance expert. In addition to no medical exam life insurance, he provides great insight for people looking to get the most out of their life insurance policies.