As your trusted South Florida estate jeweler and pre owned jewelry boutique, it's our job to find our savvy customers the best deal on high quality jewelry and pre owned luxury watches. Our customers are stylish, but smart. They understand that there's no such thing as a "new" diamond (unless a few million years fits your definition of new). They understand that much like a luxury car, a luxury watch depreciates in value the moment it leaves the showroom (they also understand that a pre owned Rolex, pre owned Patek Philippe or pre owned Jaeger holds its value very well after that initial drop off). Our customers know that any piece designed by prestigious jewelers like Tiffany, Van Cleef and Arpels, Bulgari and Cartier are built to last. And when it comes to pre owned Cartier Love bracelets, they know they can save hundreds, if not thousands of dollars by shopping with us.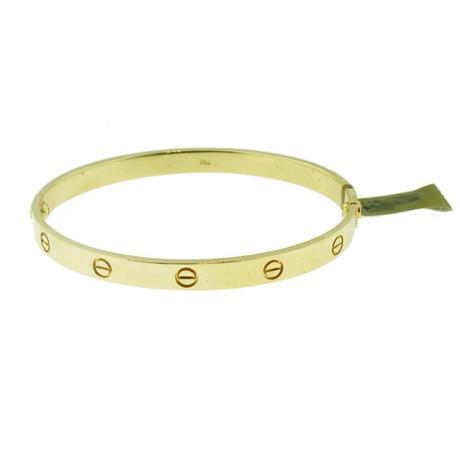 Pre-Owned Cartier Love Bangle Yellow Gold Size 21
However, a quality piece, made of solid gold and signed by Cartier is still an investment, even below retail. And bargain hunters still try to find a way around paying a few thousand dollars for the coveted Cartier Love bangle. We're sensitive to people's budget limitations – everyone has a budget; even our clients who come into our Boca showroom asking for a 15 carat canary diamond with a flawless GIA grade have a budget in mind that they're comfortable with. However, if you don't have the budget (yet) to purchase an authentic Cartier Love bracelet, you shouldn't buy a fake Love bracelet. Here's Why.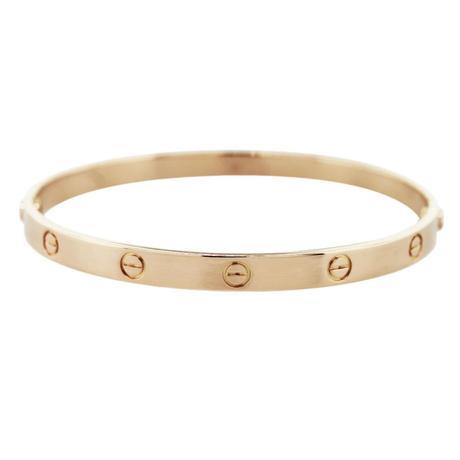 Rose gold Cartier love bracelet size 21
1. Fake Cartier Love Bracelets are a waste of money
A waste of your money, to be exact. You can schill out $50 for a Love bracelet replica in a back alley. You'll be lucky if it lasts you 2 months, so you've just bought a disposable bracelet. Moreover, it will look fake – even a relatively untrained eye can spot a fake Cartier Love bangle. A decent Cartier Love bracelet replica will run you several hundred dollars – and it still isn't the real deal, and is still subject to the embarrassing moment of someone realizing your bracelet is fake. Save up and buy a pre owned authentic Love bangle. it'll be worth the wait.
2. That's if You Even Get Anything for Your Money
Found a great deal on a Cartier Love bracelet replica online? That deal will likely end up costing you. Cartier "sale" websites and "outlet" websites are absolute shams, and due to their fraudulent nature, they move around a lot. These sites are notorious for accepting your payment and never delivering a product. Within weeks the domain is abandoned and has moved on to some other iteration of a "Cartier Warehouse Website" (no such thing). You're left with less money in your bank account and no recourse because you were attempting an illegal transaction. Which brings us to our next point…
3. A Cartier Love Bracelet Replica is Illegal
See? Told you we put your budget first! All joking aside, the fact that fake Cartier is illegal should be the biggest turn off for would be customers. While it might be difficult to conjure any sympathy for the multi-billion dollar company of Cartier, focus instead on the bracelet itself. Cheap knockoff Love bracelets devalue the real thing; if everyone had a $20 Love bracelet, would you still lust after it? Would it drive you to contemplate illegal activity, all for the sake of a sparkly arm band? Likely no. But just in case your answer was still "YES!", know that Cartier and its parent company Richemont are particularly aggressive about shutting down counterfeiters and their customers. Meaning you will face legal action from Cartier and all the might of its lawyers if you're caught.
4. Illegal Goods Come From Illegal Organizations
Counterfeit rings are illegal. People who choose to run illegal operations are almost always involved in other illegal activities. Namely, terrorism and organized crime. Your fake Cartier Love Bracelet isn't as innocent as you think. The money you pay for it likely profits the bad guys and funds some seriously bad activities.
When thinking about buying a fake Cartier Love bracelet, stop and reconsider these reasons why you shouldn't. The urge to own this iconic bracelet might be strong, but buying a fake won't feel the same. It's always better to wait until you can purchase the real deal. So until you order your authentic pre owned Cartier Love bracelet from us, you can get your fix with a real designer piece in the same style as the Cartier Love bangle, like this fun fashion piece by Michael Kors.