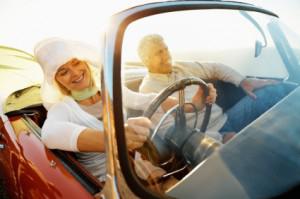 If you're looking at your financial situation, as most of us have been for a while, and wondering how you can possibly plan a summer getaway on the meager budget you've managed to set aside, then it's time to stop scratching your head.  There is a solution that will provide you with the fun and relaxing summer getaway you seek without the outrageous cost that accompanies most forms of travel.  In short, it's time to plan a road trip.  While most people attribute this style of travel to college students and families heading to see relatives, there are actually a lot of other great reasons to pack up the car and head to parts unknown.  Here are just a few that will have you filling up the gas tank and driving into the sunset.
Cost of travel. Boy, is it expensive to travel these days.  With the cost of petroleum on the rise (and already topping $5 a gallon in some areas), just about every form or travel is seeing an uptick in prices.  And the airline industry is the worst.  Not only are they now charging more for tickets, but you have to pay all kinds of fees.  Things that used to be free (snacks, baggage, even seating) now come with an attendant fee, so that you end up paying a lot more than you anticipated for the singular pleasure of being crammed into a tiny seat with a kid kicking your back for a few hours.  Driving is not only cheaper (especially if you own a hybrid), but far more pleasurable.
Cost of lodgings. If you're traveling by plane, you're probably not going to bring all your camping equipment along with you.  But if you pack up the car, there's no reason you can't strap a tent and some sleeping bags on the top.  Listen to the crickets and the noises of night animals in the southern states, sleep out under the stars at the edge of the Grand Canyon, or wake in the morning to find yourself just steps from the Pacific Ocean.  You may want to stop at a hotel every couple nights for the showers, but otherwise you can save a lot and see the country by camping out instead.
No waiting. It's true that flying is faster, but when you think about standing in all those lines at the airport, it's enough to make you want to hit your head against the wall.  Skip the stress and opt to drive instead.  It will undoubtedly be more relaxing.
Forced communication. At some point the batteries are going to run out in your kid's iPod, and then they'll have to talk to you.  It may be underhanded, but this is a great way for you to reconnect with your family and spend some quality time together.  You'll be amazed at the things you can come up with to discuss when you're trapped in a small space for hours on end.  You might just get to know your kids, your spouse, or a friend all over again, strengthening your personal bonds and making for a trip that everyone will treasure.
It's an adventure! Most trips are scheduled down to the last minute.  The beauty of a road trip is that plans can change in an instant.  With your iPhone or in-dash navigation on hand, you can easily veer off course to take in the World's Larger Frying Pan (Iowa and North Carolina both claim this oddity), Carhenge (a Nebraska tribute to England's Stonehenge made with – you guessed it – cars), or Paul Bunyan and his blue ox, Babe (there are actually several of these around the country, but the pair in Bemidji, Minnesota seems to be the prime example).  In short, surprise yourself!
Karen Appel writes for Trucker to Trucker where you can find box trucks, sell used trucks, and browse through classifieds to find a dealer near you.