On the same day Adweek deems McDonald's Number 5 on its list of Ten Brands That Changed the World, Advertising Age publishes a much more chilling article in which we learn that sales are not so great, and the CEO Don Thompson is (in AdAge's words) "leaning on its agencies to step up their work."
Then a McDonald's spokesperson tried to calm everyone down:
To be clear, we have not put any of our national advertising agencies 'on notice' or into review. And we are not entertaining other agencies outside of our current national-agency roster…. At McDonald's, we demand a lot from ourselves as marketers and from our agencies to bring the boldest and best ideas and thinking. This is nothing new."
(I hope the agency behind the Big Mac work isn't having their cage rattled. I really respected that work, and applauded McDonald's for swinging on out there with it.)
Anyway, when you're working for a brand that actually defined, refined, or plain old invented a lot of what we take for daily life in America, I guess you can never take a break. Today or any other day.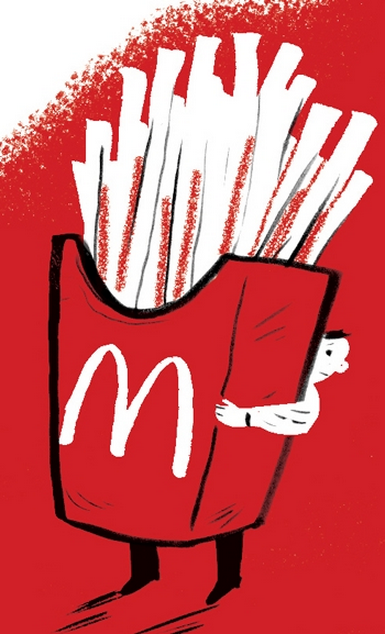 This is a nice illustration by a person named Paul Blow that I screen-grabbed from the Adweek article. It's a handsome drawing, and I hope you hire Paul Blow to draw you something someday as a result of me posting this here.