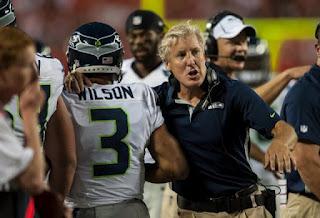 Photo: Seahawks.com - Rod Mar
- Troy Ballard
It's crazy what's happening in Seattle.
With Pete Carroll making the decision to start rookie quarterback Russell Wilson over free-agent splash Matt Flynn, the world is teetering on the brink of total and complete chaos.
However, through that chaos, Carroll needs one thing — to be commended.
Not because we at Beard and Stache think that he is making the sure-fire correct choice (we do), and certainly not because Carroll gave us a beautiful angle to work with (which he did), or even because we love to see rookies, especially quarterbacks, start in the NFL (we do).
We are commending Carroll because he is doing something so unheard of, so crazy and so damn awesome, people need to realize it. 
I'm talking about actually thinking about what Carroll giving Wilson the starting job means not only to the Seahawks, but to the entire NFL. That might be slightly dramatic, but allow me to explain.
There was a firm belief this off-season that after Seattle signed the most prized free agent (outside of Lord Manning himself), Matt Flynn, the long-time back-up would be the indefinite starter for the Seahawks. Forget about the incumbent Tavaris Jackson, as many had lost faith in his ability following an underwhelming 2011 campaign. And the mere idea of Wilson, a rookie who had more questions raised about his height than any player this draft, was quickly labeled with the infamous — project player.
And how things have shaken out.
After a killer pre-season, one in which Wilson looked like a true leader and NFL ready talent, Carroll has taken the most bold initiative of any coach in the NFL, and has handed the starting reigns to his short, third-round, project player, rookie quarterback.

Forget about Flynn. Jackson was just traded. Wilson is the man in Seattle.
It's bold. It's crazy. It's high-risk. It's high-reward. And it's damn genius.
Wilson is a true talent (and yes, I was high on this kid long before he was drafted), and Carroll can see that. He looked right past front office politics and expectations and went with his instinct. He disregarded NFL-norms and was willing to take a gamble on a player, he believes, can lead this Seahawks team into the future.
That alone says all you need to know about Carroll. And we love him for it.
Be Sure to follow Beard and Stache on Twitter @BeardAndStache, and also Troy @TroyBallards, like our Facebook page HERE!