"This blog post is part of a paid Megan Media and Petco's Wholehearted blogging program. The opinions and ideas expressed here are my own."
Finding the right type of food that your dog will enjoy isn't always the easiest task.
I remember trying to see if my dog Rambo would enjoy 'wet dog food' for the first time, when I got him as a puppy, and he absolutely hated it.
He wanted nothing to do with it, and was mad at me for about 2 days straight.
Once I finally hooked him on regular dry food, he started appreciating me more, and to this day, that is all he will ever eat, dry dog food.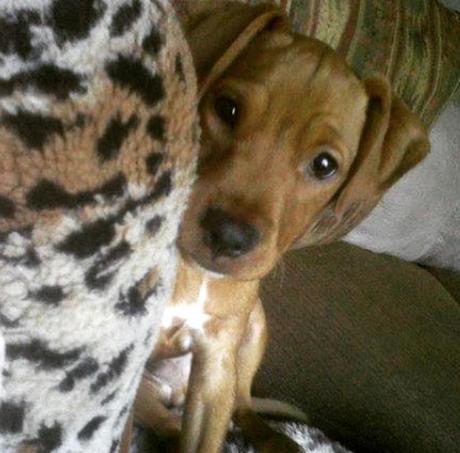 Now, on another note, we are 100% frequent shoppers at Petco.
If I tell him 'Do you want to go to the puppy store today?', he starts crying nonstop, and he runs around the house like somebody just broke in and stole something.
I think what he really appreciates the most about Petco though, is that there are doggy friends everywhere, and that he can just pick up any treat that he wants off of the shelf, whether i'm paying for it, or not….
He also ALWAYS has a thing for the lady that trims his nails weekly there.
I'm not kidding, when I say that he'll just sit in front of the door, until she opens it….it doesn't help that she gives him a treat every time too, #spoiled.
Anyways, when we recently took a trip to Petco, not too long ago, I noticed that they actually had a bigger variety of dry dog food than usual.
I've been wanting Rambo to try other food options lately, as the brand that I usually get him is quite costly, and just about breaks my wallet.
So, I came across 3 dog food brands that I really thought I should have him try, but I made the final decision of getting him Petco Wholehearted dry dog food. Reasons being that, not only did it sound more appealing, but it was more inexpensive than the others, which is what I overall wanted.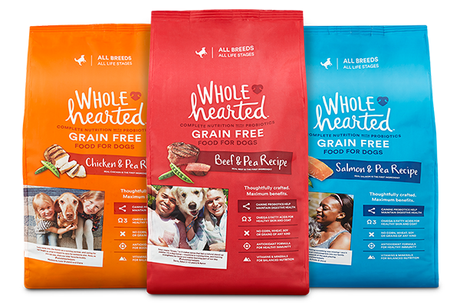 They had a bunch of different flavors like, 'Grain Free Chicken & Pea', 'Grain Free Beef & Pea', & 'Grain Free Salmon & Pea'.
They also had cans as well, which had flavors like 'Grain Free Chicken & Fish Canned in Gravy', and ' Grain Free Lamb & Carrot Canned in Gravy', they had a bunch of different flavors.

The dry food that I purchased for Rambo, only ended up being $9.99, and only went up to $39.99 for the bigger sized bags.
The cans started at about $21.48.
Cheap right? So inexpensive!
What I loved most about this dog food, compared to the other brand that I usually get, was that all of the wholehearted bags and cans were 'Grain Free', No Corn, Wheat, Soy or Grains of any kind; and they also guaranteed canine probiotic strains to help your dog maintain healthy digestion.
So far, Rambo really enjoys it, and hasn't stopped eating it to this day.
So, yes, I will continue to buy this dog food for him, and YES, we will be taking MORE THAN FREQUENT trips to Petco, is what it looks like.
Oh, well!
Also, before I forget to tell you guys, I have the opportunity to give you two chances to win a $50 Petco giftcard.
Once for commenting on this exact post, and once for sharing this post….
AND there will be a chance to win a Grand Prize of a one-year supply of Petco Wholehearted dog food, so you can take as many trips to Petco as you'd like!
YOU CAN ENTER HERE: a Rafflecopter giveaway

As long as he appreciates his dog food!
Where do you and your pets like to go to shop?
What kind of dog food does your dog enjoy?
Leave a comment below in the comment section, and let me know your thoughts!
YOU CAN CLICK HERE TO PURCHASE PETCO WHOLEHEARTED DOG FOOD
YOU CAN CLICK HERE TO ALSO CHECK OUT PETCO GROOMING