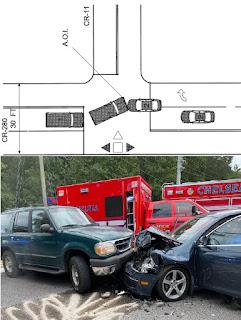 Image No. 1 -- see notes at end of post.

A state trooper's report on a vehicle crash, which has been the subject of multiple posts here at Legal Schnauzer, is inaccurate, according to a party who was severely injured in the incident.
Attorney Burt Newsome, in fact, says the mere presence of a state trooper raises questions about how the crash unfolded and how it was investigated. Further, Newsome says, the trooper's report differs in numerous respects from what Newsome saw with his own eyes as the crash unfolded in September 2020.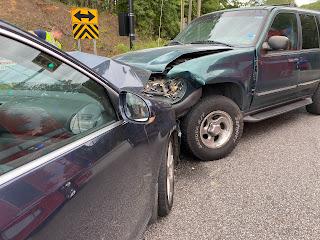 Image No. 2

Newsome wound up with a severely broken right leg, and photos taken at the scene indicate he likely was very close to being fatally injured. In the general time frame, Newsome was involved in high- stakes litigation with several corporate and legal powerhouses in the state -- including Alabama Power, Southern Company, Drummond Company, Balch & Bingham, and Matrix LLC.
Perhaps of most note, Newsome was the attorney for former Drummond executive David Roberson in a $75-million lawsuit against Drummond and Balch & Bingham for breach of contract and fraudulent misrepresentation. Did someone see attempted murder as the only way out of a courtroom jam -- likely created by a plaintiff [Roberson] with a strong case, and an attorney who refused to be scared away?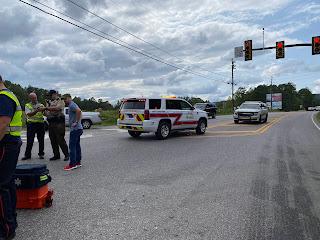 Image No. 3

Newsome was driving a Volkswagen Jetta and was hit by a man driving a Ford Explorer. Based on photos taken at the scene, it is remarkable that Newsome survived.
Was Newsome targeted for the vehicle crash because he refused to cave in to a number of intimidation tactics (see here and here) and drop the case or settle it on bad terms for his client?
The images with this post tend to suggest that the state trooper produced an incident report that appears to be off target.
First, let's consider the trooper's narrative on the incident report.
* It says vehicle No. 1 (the green Ford Explorer) was traveling westbound on Shelby County 280, making a left turn on County Road 11. But a photo taken moments after the crash shows the Explorer's wheels turned sharply right. That's a strange way to make a left-hand turn.
* According to the narrative, Driver No. 1 said, as he was trying to turn left, a vehicle in front of him turned right onto County Road 11, obscuring his view. But a diagram and photos show it is impossible to turn right going west at that intersection because there is no roadway to turn onto; County Road 11 dead ends at that intersection.
* The narrative states that Driver No. 1, as he was turning left, did not see vehicle No. 2 (Newsome's Volkswagen Jetta), and the Jetta struck him in the intersection. Photos taken moments after the crash show the intersection was clear, and the crash did not happen in that area.
* The narrative says Driver No. 2 (Newsome) saw the Explorer making a left-hand turn and tried to swerve left to avoid him. But the Explorer swerved right, hitting Newsome virtually head-on. Photos from the scene are consistent with Newsome's version of the crash.
All of this raises many disturbing questions, so let's start with this one: Why was it odd for a state trooper to be on the scene? Newsome explains:
Shelby County typically does not use state troopers to write up accident reports that occur within its jurisdiction, unless it is a fatality or a major crash with life-threatening injuries.
An employee of Newsome's law office immediately began taking photos at the crash scene, and Newsome says those photos tell a very different story from what the trooper's diagrams show: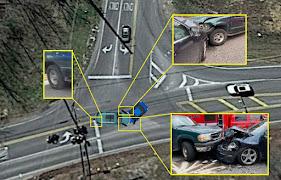 Image No. 4

It is clear in the photo that [name deleted] took right after the crash that, after the Explorer started to turn left on County Road 11, he gunned it straight towards me - and then when I attempted to veer LEFT he turned RIGHT into me and struck the right side of the vehicle. If I had not been able to slightly veer left avoiding a head-on collision, he would have killed me. The photo clearly shows the Explorer turning RIGHT, trying to hit me head on.
But, look at the police report.  He wrote up that the vehicle was turning left on County Road 11, and that I was going straight, and the drawing shows the Explorer turning right instead of turning LEFT like it truly was -- and it shows the Explorer striking me on the left side and not the RIGHT. Plus, after he straightened up and gunned it at me - he had gone well past the turn onto CR 11. The drawing is patently false. 
Was the trooper happy about the Newsome employee's presence, with a camera? No, says Newsome:
The trooper ordered [name deleted] to quit taking pictures at the scene. He was screaming at her to stop taking pictures.
Just a few of many troubling questions from this incident: 
(1) Did someone pay to have Burt Newsome killed?
(2) Why did law enforcement mostly ignore the crash and produce an incident report that appears to be flawed?
(3) Can the trooper's report be explained by honest mistakes? 

(4) Was Newsome targeted because of the $75-million Roberson lawsuit?
(5) What does this say about the "justice system" in the Birmingham area?
(6) Does an attorney put his life on the line when he brings a civil case against powerful entities in Alabama -- and treats his client's claims with seriousness? 
Notes on images
* Image No. 1 -- (top) diagram from the trooper's report; (bottom) view from the side, just after impact, with the Explorer's wheels turned sharply right.
* Image No. 2 -- View of the impact from the other side of what is shown in Image No. 1. Again, the Explorer's front wheels can be seen turned right.
* Image No. 3 --  View of an empty intersection, post crash, showing the incident report incorrectly had the crash happening in that intersection. Newsome's vehicle actually was hit outside the intersection, past the turn to County Road 11.

* Image No. 4 -- A photo illustration, from above, of the crash scene at impact.