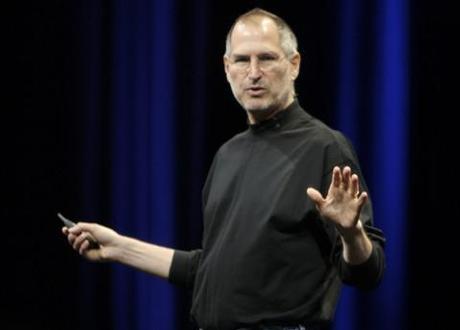 Steve Jobs. Photo credit: Ben Stanfield/Flickr
Steve Jobs: A Biography
confirmed to The New York Times
According to Simon & Schuster,
Bloggers and Apple fans were barely able to contain their excitement, with The Wall Street Journal's Digits blog reporting that the book has already risen to 28th on Amazon's best-seller list, based on pre-orders. Dean Takahashi at VentureBeat eargerly anticipated what he said would be "one of the most interesting reads of the decade for people who follow the tech industry….I expect this book to open a huge window into how one of Silicon Valley's consummate insiders experiences life and business."
Why has the book been brought forward? Theories abound as to why the book's publication date has been changed. The official line that "the book is now ready" is tantalizingly vague and has fuelled speculation that there's more to it than that. A popular explanation is that the book's new publication date is timed to coincide with a new Apple product launch. Apple has a knack for well-timed, attention-grabbing product releases and suggestions in the blogosphere as to what might accompany the book's publication ranged from the iPad 3 to the iPhone 5. Other Apple-watchers, including commenters on this New York Times piece, voiced the morbid possibility that the book was being brought forward because of Jobs' failing health – more on that below. But perhaps there's no hidden agenda at all. As Tim Edwards remarked at The First Post, "Simon & Schuster could have saved everyone a lot of conspiracy theorising if they'd just said they wanted to get the book out in time for Christmas."
Steve's health. Given Jobs' recent ill health – he has taken several extended medical leaves of absence due to his battle with pancreatic cancer – it is not surprising that some people have suggested this as a reason for changing the book's publication date. But the book's author Walter Isaacson specifically rejects this interpretation. "It's actually not related to any decline [in Jobs' health]," said Isaacson in an email to Fortune. "I turned most of the book in this past June. It's now all done and edited. The March 2012 date (or whatever date it was) was never a deeply-considered pubdate." Many people will be hoping that this is true. When it was announced that Jobs was taking a leave of absence in January 2011, Apple shares dropped 6%. And Joe Mathews at NBC in Los Angeles explained just how important a fit and healthy Steve Jobs was to his state's economy. "Put it this way," he wrote. "California's agricultural industry, the largest of any state…represents a little more than 2 percent of the state's GDP. And Apple? It represents 4 percent of the state's GDP…Whatever the truth of the rumours, Californians can say this: Get well soon, Steve." The thousands of contributors at Getwellsteve.com clearly share those sentiments.
The (fake) Book of Jobs. Some people apparently can't even wait till November to read this book. Following the fake Apple stores that were discovered in China recently, TechCrunch brought news that a bogus version of the Jobs biography, translated by someone called 'John Cage,' was available for sale in Taiwan, and had already sold 4,000 copies at $10 each. It's a safe bet that the real book, when it arrives, will cost a bit more than that.