Why Lady Gaga's Performance at the Oscar's Didn't Surprise Me
Lady Gaga slayed it at the Oscar's with her tribute to the 50th anniversary of The Sound of Music and the social media world's main reaction was that they didn't know she knew how to sing so well; which is something that is very hard for me to comprehend. All I could think last night as I saw these from tweets and articles pop up about Lady Gaga finally showing everyone that she could sing was - What planet have these people been living on as the Lady Gaga that has performed at numerous concerts, tours and awards shows has ALWAYS had always had those pipes. If you didn't see the performance, check it out below and if you did see it, take the opportunity to relive that moment once more.
Julie Andrews Embracing Lady Gaga After Her Tribute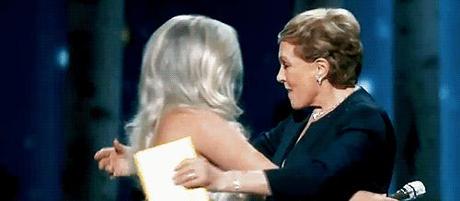 I'm not sure what's more upsetting, the fact that I was wrong in thinking that the majority of everyone was on the same musical boat with me, when they thought of Lady Gaga or the fact that such a big amount of the population didn't think she could sing. Could it be that the mega pop hits that Gaga has dropped like "Poker Face " and "Love Game" hang an automatic judgement cloud upon her, where her vocal skills aren't appreciated by the mass for the monsters that they really are?
Lady Gaga's performance at the Oscar's was quite exquisite, yet this caliber of a performance where she raises the bar is something that I expect from Gaga as she has killed performances and ballads long before this. While Lady Gaga wasn't up for any awards last night, she is clearly one of the big winners of the Academy Awards.
Share