HBO's wildly successful Girls has its season two premiere this coming Sunday, January 13. I know I'm not the only one counting down the days, ready to see Hannah and Marnie and the girls (and guys) back in New York. It doesn't help that I watched the entire first season while I was living in New York; I'm sure there's a nostalgia factor. But, despite that, the show is funny and it resonates. I admit, up front, that I love it.
It's not surprising that Girls is successful. Judd Apatow is the executive producer (you know, the guy who directed Knocked Up, This is 40, Funny People… you might've heard of him, or at least seen one of his movies), and Lena Dunham is the writer and star. These two together are enough to ensure the show's success, added by the fact that their home is a premium cable network that doesn't flinch at a whole lot. However, the show is certainly helped by some excellent marketing, especially online and digitally.
First, you can follow @girlsHBO on Twitter. The Twitter account is updated regularly, incorporating special offers and contests for fans of the show, as well as plenty of retweets.

See? A contest that involves fan interaction with the hashtag #resolutionsGIRLSbreak. Not only is it a good contest anyway (exercise classes right after New Years), but it's a hashtag that fans of this show can get involved with and relate to. It's not just #girlsHBO or #ilovegirls.
Of course, the Twitter account is connected to an Instagram that is updated almost more than the Twitter account. Instagram for Girls includes stills from the show, cast members holding up signs with the hashtag #resolutionsGIRLSbreak (see! It's everywhere!), and, of course, a regular countdown to season two's HBO premiere on Sunday.
However, the most impressive form of marketing comes on the Girls' Tumblr account. Whoever is in charge of social media for this show should be given all of the awards. The whatshouldwecallgirls.tumblr.com page is one of the best sites I have seen when it comes to getting a show out there and in getting fans involved beyond watching or tweeting. Plus, it shows an awareness of what is current when it comes to a show's audience. Plenty of twentysomething girls are currently following Tumblr accounts including whatshouldwecallme.tumblr.com and thattimeistudiedabroad.tumblr.com. Both pages are essentially a headline accompanied by a humorous GIF that the viewing audience can relate to.
Example from What Should We Call Me: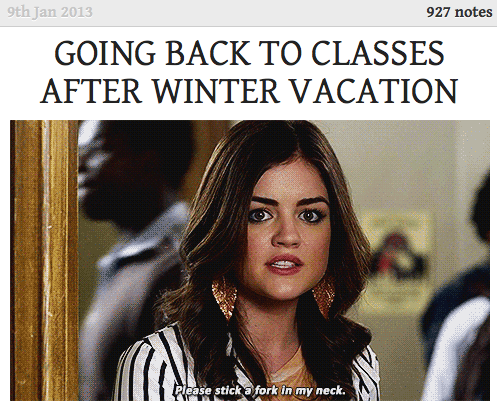 Girls
started their own version of this page, and they didn't do it alone. Instead of creating their own headline + GIF combination, they reached out to fans to create the initial posts. It required fans to go through season one, find the perfect scene or quote, and create their own GIFs (or find it somewhere else already) and then make a headline to accompany it. While the Tumblr was only started days ago, it already has eight pages of content, most of it completely user generated. It is a great tie-in, and it claims that it will last throughout season two at least.
I think what's most impressive here is how aware the marketers are in this situation. I don't know if Lena Dunham is involved in anyway, or if other Girls know something about this. But it shows that some people do know their audience, and maybe even know them too well. However, this brings people in, and it is a shining example of what to do when it comes to social media marketing and entertainment.