If I knew that there was such a thing called confinement food catering when I first gave birth in 2009, I would definitely have taken it up. However, that was a time when we were living in Sweden and with the culture being so vastly different over there, confinement was an unfamiliar concept. From what I saw, many mums were out and about with their newborns shortly after giving birth, which explains why I am also an active mom who doesn't like to stay indoor much.
In spite of that, I do believe that it is very important for us to control our diet and eat well during this period. Even though my first confinement was done overseas in the midst of winter, as much as I could, I stayed off snacks and cold stuff, ate nutritious food and maintained a healthy diet. I honestly feel that eating the right food would help to accelerate my postpartum recovery process and give me the strength I needed to care for the baby, which was important since I was usually on my own.
While I never had a confinement lady before -- it's the same as why we don't have a helper, I just prefer to do it on my own instead of asking others to look after my kids - I did have my mother-in-law come over to cook for me during my past confinements. This was something I deeply appreciated yet I also felt bad for making her go through the hassle. For instance, when we were in Sweden, she had to hunt high and low for the food ingredients, like red dates, old ginger and pig's liver, which were rare and hard to find in most cases, and with the need to cook every day, things could get tiring for her. 
Now that years have passed and age has caught up, I surprised our friends and family members by boldly having a fourth baby. Yup, and so the cycle begins all over again. Given that I am older and more experienced now, I decided I didn't want to trouble anyone - well, except for the hubby - to help for my confinement but instead settle everything on my own.
Thanks to Tian Wei Signature, all my meals were settled for the entire month which allowed me to focus on resting and caring for the baby, woohoo! This was so important for me as he was born prematurely and I wanted to make sure he was doing well and properly looked after. Having confinement meals delivered to my doorstep was a feeling that I loved, because it meant I didn't have to depend on others to cook for me yet I also did not have to slog in the kitchen at a time when I was supposed to be recuperating. I tried out their most extensive package, which is the 28-Day Double, including both Lunch and Dinner, and it was something that I truly enjoyed and looked forward to each day.
In this post, I'll share with you more on why I totally think that confinement food catering is a lifesaver, at least for me, and will showcase more of the dishes I've tried and which I loved best. I also have a giveaway ongoing on my IG so hop over if you wish to try out these yummy confinement meals too.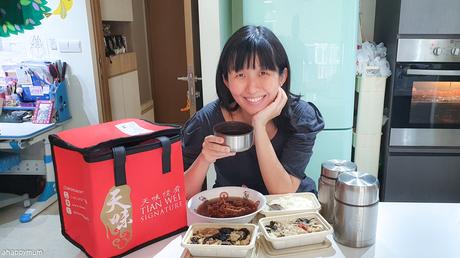 ******
INTRODUCTION
What is confinement? 
Confinement, which originates from Asian culture and beliefs, refers to a period for mothers to recuperate and recover from childbirth. It is said to be a important time where they should maintain a specific regime, including eating a nutritious diet, staying indoor and avoiding physical activities in order to regain health, restore strength and prevent future ailments. Depending on individual beliefs or preferences, a typical confinement can last between 28 to 40 days. 
What is confinement food?
Confinement food consists of meals which are specially prepared using nourishing ingredients for mothers to boost recovery and improve postpartum well-being. Traditional Chinese confinement food is infused with 'heating' ingredients such as ginger, sesame oil, black vinegar and Chinese herbs. This special diet is said to perform specific functions such as dispel "wind" from the body, improve blood circulation, stimulate "qi" and revitalise strength, as well as help in lactation by boosting milk supply.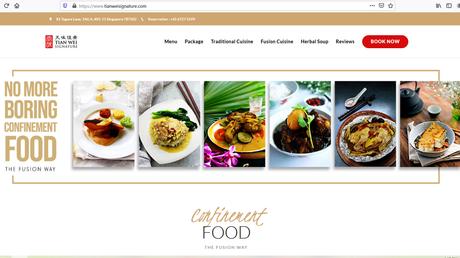 About Tian Wei Signature
Tian Wei Signature was founded with an aim to create appetising meals for mums and provide the necessary ingredients to help boost their recovery during confinement. With over 16 years of experience under his belt, head chef Eugene is skilled and professional in whipping up healthy and tasty confinement meals. In the kitchen, the chefs observe a strict rule of using only the freshest and healthiest ingredients withoutthe use of any MSG or artificial flavouring. What makes Tian Wei stand out is how it gives a modern twist to some of the traditional dishes by incorporating Mediterranean and Japanese flavours. The result is a fusion mix of diverse, unique dishes that make confinement more exciting without compromising on food quality and nutritional value.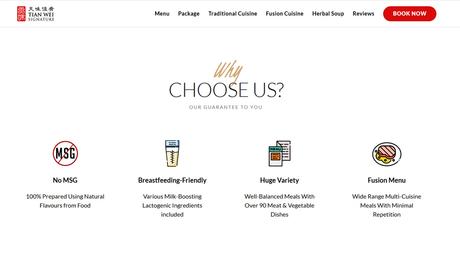 REASONS WHY I LOVE TIAN WEI SIGNATURE
1) Convenient and fuss-free
Having my lunch and dinner delivered to my doorstep every afternoon and evening, well, it can't get more convenient than that, right? I guess that is why people love
tingkat
though I've not personally tried it before. I was very impressed by how my food was delivered in a thermal bag punctually every day! If I was out fetching the kids, it would be waiting for me on my shoe rack without fail.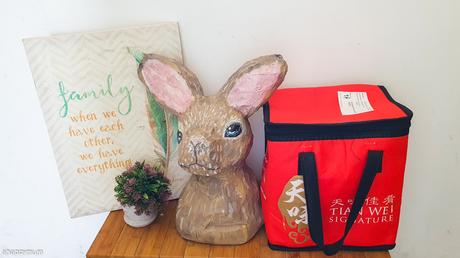 For every meal, I would receive two thermal flasks, one filled with longan red date tea and the other with a soup or dessert. I was very surprised when I first opened them up because unlike what I expected, the tea and soup were still very hot when served, yippee! I was thankful to see that thermal flasks are used and the fact that they get washed and reused every time means we were not harming the evnvironment too. Apart from the reusable thermal bag and flasks, in its effort to be eco-friendly, Tian Wei Signature packs the food into biodegradable containers and also provides a set of stainless steel straws for every customer.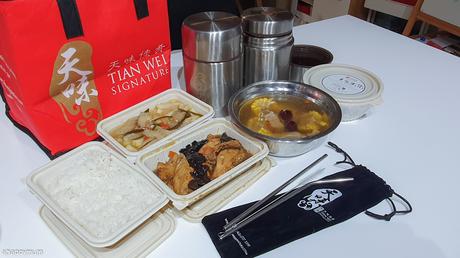 I usually pour the soup into a bowl, eat the food directly from the containers and drink the tea from the lid. That means other than washing the bowl, my cutlery and the flasks, there is nothing left to wash. Yup, that means not only do I skip all the cooking, the washing part is kept to a minimum too, which is good news since confinement mums are supposed to stay away from cold water.
2) Boosts recovery 
When we first knew that I was pregnant, the hubby and I contemplated the thought of cooking our own confinement meals. After all, he is a very good chef and is always coming up with creative ways of cooking. The thing is, we realised we had no idea of how to go about cooking it or what ingredients to include and what to omit. We did know that you need a lot of ginger and dishes like pig trotters in black vinegar, sesame oil chicken and steamed fish are good but that's about all. We also didn't know what kind of herbs were beneficial or what functions each of them performs. While my mother-in-law is the most knowledgeable one, there are also things that she doesn't know, like how to cook 生化汤 and what ingredients it includes.
 That is why it is good to leave it to the experts! With so many years of experience, the culinary chefs at Tian Wei Signature know way better than us about what is good for postpartum recovery and how best to nourish confinement mums. The meals are prepared according to Traditional Chinese Medicine methods and beliefs, which include using ginger, black fungus and herbs which are designed to boost "qi" and aid in recovery. Did you know? Tian Wei offers 28 different types of herbal soup, including
Ginseng Nourishing Soup
,
Dispel Blood Herbal Tonic Soup
and
Polygonum Multiflorum Black Chicken Soup
, which not only help to strengthen the body, nourish blood and replenish energy but also build up immunity and increase breast milk too.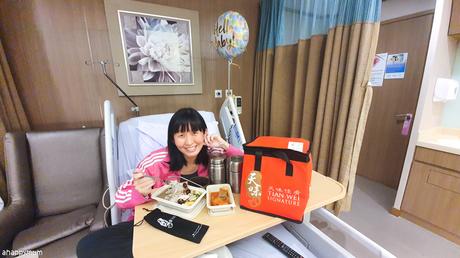 On my second and third day, I received a bowl of 生化汤 which is a classic Chinese herbal decoction that relieves the pain of uterine contractions and stimulate blood flow which helps in the discharge of lochia - the postpartum bleeding that includes blood, mucus, and uterine tissue. I have to say not all of the herbal soups are easy to drink as some of them are really strong in taste and smell. That said, I can hereby tell you I drank every bowl to the last drop because all I needed was to tell myself
"This is for my own good!"
and it would motivate me to finish all.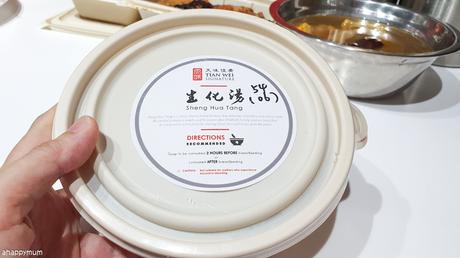 3) Tasty, nutritious and well-balanced 
The meals usually come with a staple, a meat dish, a vegetable dish, a soup and longan red date tea. Yup, that means other than fruit, I have everything I ask for in a well-balanced, wholesome meal. As mentioned, Tian Wei Signature uses all 100% natural flavourings with no MSG. That is why I allowed my kids, who were always requesting if they could try this and nibble that when my delivery came, to share the food with me too.  If you wish to know how the taste of the food, you might be surprised to know that even my kids love it, especially the meat and soup dishes like
Marmite Marinated Pork Chop
,
Baked Fillet Fish
,
Lotus Roots and Red Date Chicken Soup
and
Corn Millet Soup
. Angel gave her thumbs up for all the broccoli dishes and she was the only one of the three who was not only able to take the strong herbal soups but loved all of them too. As for me, I think it is fair to say that I preferred some dishes over others and not all of them appealed to me. However, overall, I do think these were hearty meals which I enjoyed and they tasted better than I expected too.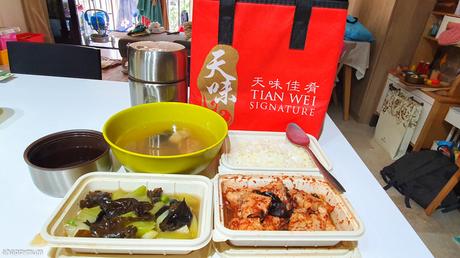 4) Wide variety and minimal repetition
 
With 16 staples, 17 desserts, 42 vegetable dishes, 44 soups and 49 meat dishes lined up in its menu, Tian Wei Signature provides a wide variety of food with minimal repetition, meaning you get to eat something different almost every day! That is what keeps things exciting and makes confinement so much more interesting, don't you agree? I remember I was pleasantly surprised when I opened up the box and found spaghetti - something that I never got to enjoy during my past few confinements. I totally embrace and applaud how Tian Wei tries to come up with unique dishes and infuses Japanese and Mediterranean styles into their way of cooking. If you are more of the traditional type and prefer to opt out of the fusion food, you can always let the them know in advance so they can make the necessary arrangement. I would personally advise you to try it out though because the fusion food was what brightened up my day and made me temporarily forget that I was on confinement, haha. In fact, I looked forward to mealtimes so much and they were always one of the highlights of my day.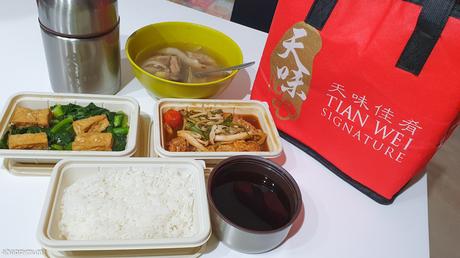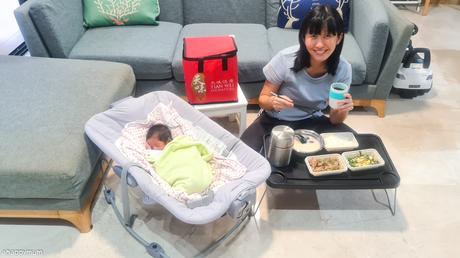 5) Excellent service 
I called Tian Wei to activate my package only to get informed shortly that I had to stay back in the hospital as the baby had to undergo phototherapy. So I rang Tian Wei back to ask them to delay it for a day and they did. Yup, the good thing is as long as you call them in time, usually by 3pm, you can make changes for the next day. For instance, you can skip a meal or two if you are out or change your meal preference if needed.  What surprised me most was that a staff called me back within a short while and said
"Hi, we understand that your baby is having jaundice. In this case, should we leave out the ginger and reduce the herbs used in your meals?"
Wow. That was not just efficient but very thoughtful too, and I truly appreciated that gesture. The staff would also ring me up to inform me whenever the food was ready for collection outside my door and asked me for feedback from time to time too.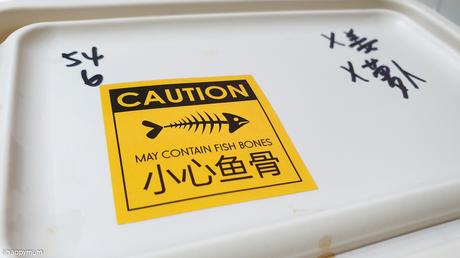 As for the delivery personnel, they usually wore a big smile on their faces and would greet me and my kids too. A friendly uncle was even worried if Asher could carry the whole bag into the house and watched him just to make sure he did it safely before giving him the thumbs up and saying he was a good boy.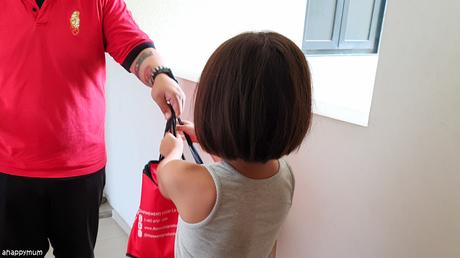 MY FAVOURITE DISHES
There were many dishes that I enjoyed and most of the taste and quality was better than I expected. If I had to pick a list of which dishes I enjoyed the most, this would be it. Take a look at what I've picked out and if you get a chance to try them out, see if you like them too!

Staple
Spaghetti Pomodoro And Caponata
Stir Fried Pork Liver with Beehoon and Kailan
Meat
Fortune Herbal Chicken

Tian Wei Signature COQ Au Win
Sweet and Sour Salmon 

Vegetable
Stir Fried Shanghai Green with Conpoy
Silky Egg With Amaranth in Superior Broth
Soup

Fenugreek Green Papaya Fish Soup 
Dessert
Sweet Potato Longan Ginger Soup 
They say a picture speaks a thousand words, right? So instead of merely telling you what dishes I like, I made an extra effort to take more pictures than required so that I could create a mini photo gallery here to show you. These were some of the meals that stood out to me and I enjoyed all of them. Oh, there is also a video below too which is my best effort to showcase the food and share them with you. As for the smell and taste, you just have to try it for yourself next time!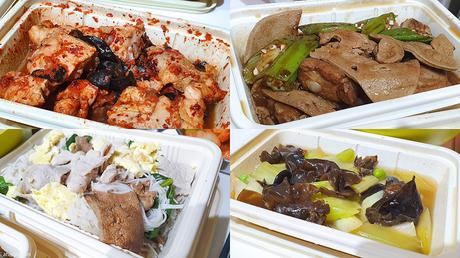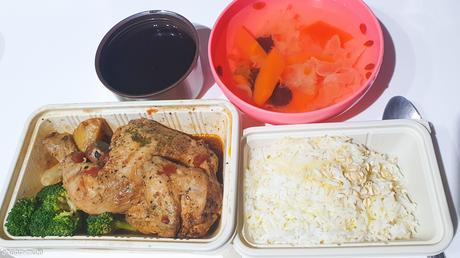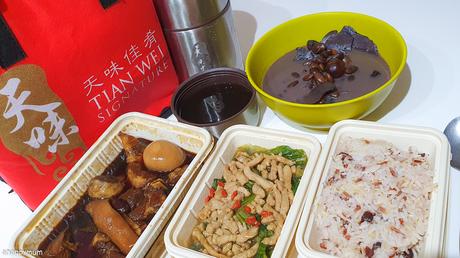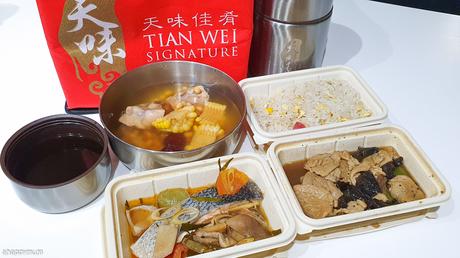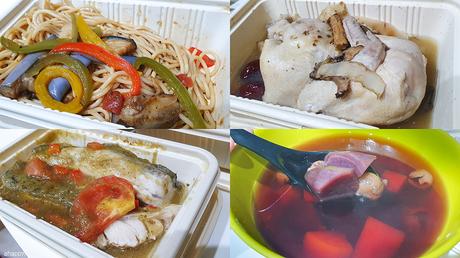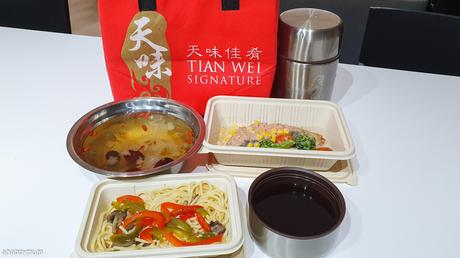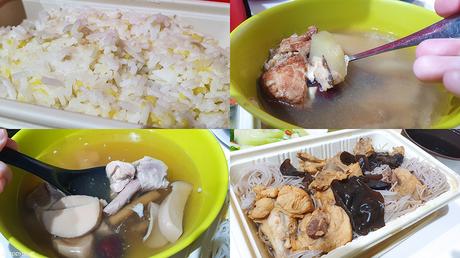 PACKAGE LIST
Here is the list of the different packages offered by Tian Wei Signature. You can book a trial meal before deciding if you want to take it up for a longer period of time, for instance 7 Days with both lunch and dinner, or 14, 20, 21 or 28 days with an option of taking either Single or Double. My recommendation is to go for the 28-Days Double because it is the most value for money and since it covers the whole of your confinement month upon discharge, assuming that you spend the first two days in hospital, you will have all your meals settled and that takes a huge load off your mind. Don't forget to book in advance to enjoy the Early Bird Discount.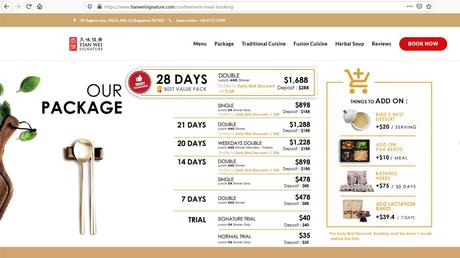 MENU
I didn't realize this previously but you can visit Tian Wei Signature's website to find out the daily menu, which clearly indicates all the dishes you will get to enjoy for every lunch and dinner. The thing is, it didn't really matter to me as I love the element of surprise in not knowing what was in store for me each day. However, if you prefer to know what you will be getting, go HERE and enter your estimated date of delivery to see the full menu (the weeks are shown on the left, so click on each of them to see the details). If you don't like any of the dishes or have any dietary preferences, just give them a ring and they will make the necessary changes for you too.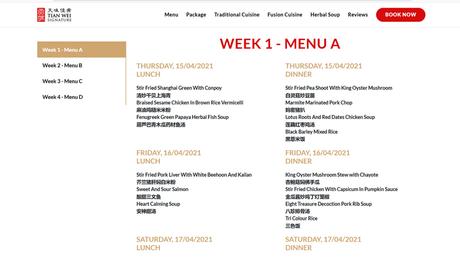 CONCLUSION
Many people thought that I would be extremely busy and overwhelmed during this confinement since I had a newborn and three other kids to take care of - not to mention that my firstborn is in her PSLE year. While that is true to a certain extent, I also felt that I was well-rested and at ease this time round. It might have come from years of experience or an ability to close one eye as a fourth time mum, but I also give much of the credit to Tian Wei Signature for it allowed me to eat nutritiously and aided in my recovery process too. Knowing that I didn't have to worry about meals made me feel more relaxed and I felt assured that I was in good hands.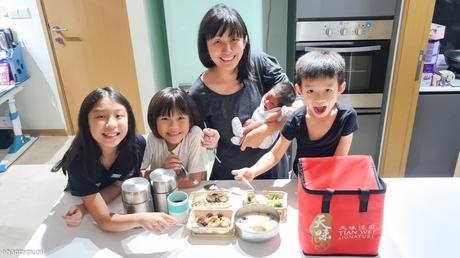 While I might not get to experience confinement again (four is enough, thank you very much), I am thankful for how mine went this time round. I would definitely recommend expectant mums to take up confinement food catering service too, especially those who would like to care for their baby on their own instead of engaging help. I truly hope you will enjoy your confinement as much as I did!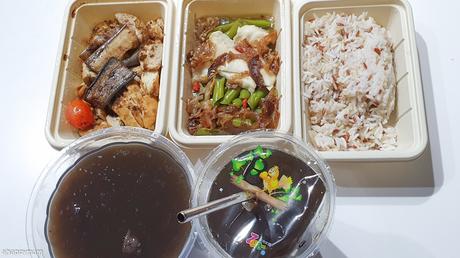 P.S. This confinement meal above was my last one, which explains why the drink and soup were in plastic cups instead of thermal flasks. I actually felt a little emotional halfway through the meal because while I was glad that my confinement was ending, I also realised I might miss it when I look back in future, especially the food.
Awwww.
Thank you, Tian Wei Signature, for making my confinement journey a smooth and happy one! ******
Here's a video for you to take a closer look at some of the dishes I tried. Enjoy watching!
View this post on Instagram

A post shared by Summer ☀ | 快乐妈咪 (@ahappymum)
Tian Wei Signature81 Tagore Lane, TAG A, #01-11
Singapore 787502
Phone: +65 6727 5599
Email: [email protected]Website: https://www.tianweisignature.com/
Disclosure: This is a sponsored collaboration between A Happy Mum and Tian Wei Signature. All opinions are solely my own.