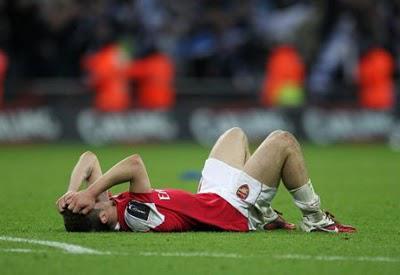 By: Brandon Whitfield
On Tuesday, my fellow Toast staff member Zach wrote a great article on why Manchester United will not win the Premier League this year.  While I agree with some of his points, I still feel that United has to be the favorite to take home the trophy in May.  I want to mention that I am a Gooner and would love for Arsenal to win the title this year, but based on performance of past years, I do not have a great amount of confidence in this team winning important matches down the stretch.
Arsenal has had a very good Premier League season up to this point and has some very impressive victories.  The 3-1 home victory against Chelsea and the 3-0 road win against Manchester City really stand out to me as two of Arsenal's best performances this season.  My problem is that the Gunners always struggle killing off teams and have dropped points because of it.  The best example of this has to be the 4-4 draw against Newcastle United. Arsenal was up 4-0 as late as the 67th minute and let Newcastle reel off four unanswered goals to earn the draw.  It is inexcusable for any team that feels they can be Premier League Champions to lose a four goal lead.  Also, the team was up 2-0 on Spurs and ended up losing 3-2.  Not to mention the late equalizers that were suffered against Sunderland and Wigan Athletic that cost the Gunners precious points.  I just do not feel confident that when this team needs a result, they will buckle down and secure the three points.  Manchester United has always had the belief and the mental strength to grab wins from games they should have tied, and draws from games they should have lost.  Arsenal, on the other hand, continues to show their propensity to wilt at the first sign of pressure.
The other main problem for Arsenal is injuries.  Injuries derailed their season last year and looks like they are starting to take their toll now.  Cesc Fabregas is hurt again and has been in and out of the lineup all season with his problematic hamstring.  When Cesc is playing well and 100%, this team can beat anyone in the World.  When he is out, this team can lose to a relegation squad.  Striker Robin van Persie has been in devastating form since he came back from injury.  Since the 2011 calendar year began, RVP has to have been the hottest striker in the league.  Robin is apparently fully fit after a remarkable recovery from the injury he sustained in the Carling Cup Final.  I would be absolutely shocked if van Persie and his "chocolate legs" were able to stay fit for the rest of the season, though.  This guy is never able to stay on the field and I really do not trust that Bendtner and Chamakh will be able to carry the load if van Persie goes down.  Young keeper Wojciech Szczesny has played very well this season, but now it looks like Szczesny will be out for a while with a dislocated finger.  That means Manuel Almunia, who can be described as inconsistent at best, will have to step back in (there's a reason why he lost his starting spot to an unproven 20 year old).  The starting 11 for Arsenal has been fantastic, but some of the backup players have had a disappointing season.  Especially players in the midfield, like Tomas Rosicky, Abou Diaby and Denilson.  Anytime that the midfield triumvirate of Cesc, Jack Wilshere, and Alex Song are not fully fit, Arsenal have problems.
Arsenal has a chance to make the season memorable and bring back the Premier League trophy to the Emirates.  As it stands right now, I still have to give Manchester United a slight edge for the title.  I hope that Arsenal proves me wrong and I get to celebrate their Championship in May.