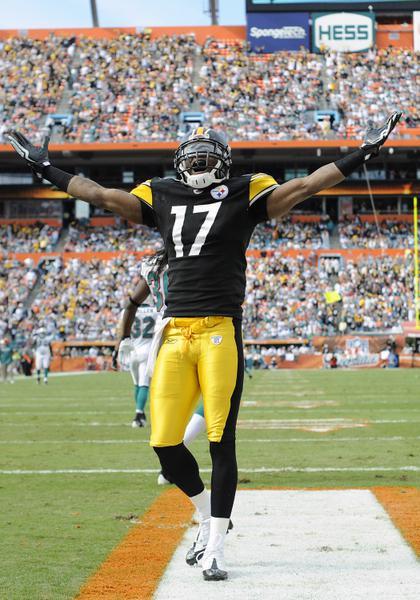 Photo: hugesportz.com
- Adam Parker
It's almost like he's not even out there for the taking -- there isn't even the slightest whisper regarding Pittsburgh Steelers wide receiver Mike Wallace.
And for head coach Mike Tomlin, mum's the word regarding Wallace going to another team, "We'll cross that bridge when we come to it -- if
we
 come to it."
At this stage, the Steelers have to like where they're sitting on the Wallace front. There is no indication that any team will sign the speedy wideout to an offer sheet, leaving the Steel City in the clear.
It's still puzzling that Wallace hasn't generated much interest, so Beard and Stache has decided to break it down and give a few reasons why the former Mississippi star isn't getting the attention he deserves.
For one thing, it's probably still too early in the process for teams to target Wallace. Teams have until April 20 to sign restricted free agents to an offer sheet. Unrestricted free agents get the most attention in the beginning stages of the process, and rightfully so. Perhaps a team is lurking out there biding its time, or perhaps not.
Another reason is that Wallace's rumored price tag is off the charts. There have been reports that Wallace wants more than $100 million in a contract. In comparison, we're talking the same kind of money that Larry Fitzgerald is earning, folks. If that's true, the cost of the contract, plus a first-round draft choice, could make him too expensive for most teams to pursue.
Wallace has to know that he's not worth that kind of money at this point though, and is instead more than likely using these crazy contract demands as a way to discourage anyone from stealing him away from Pittsburgh until he and the team can come to terms on a long-term deal.
Why is he not worth that sort of money, you ask?
Well, that's easy. Wallace is simply not versatile enough. He isn't a guy that can make tough catches in traffic, nor can he contribute at all on special teams. Not to mention the cloud of doubt surrounding his effectiveness in another offensive system.
The final reason is that all the teams throughout the NFL that could use him, have already filled the need with other free agents.
The San Francisco 49ers and New England Patriots were both sexy destinations for Wallace, but both teams have signed multiple free agent wide receivers, and really don't need him, nor can they afford him.
The Chicago Bears traded for Jay Cutler's old pal Brandon Marshall, filling a massive need. The Jacksonville Jaguars have extreme need at the position but their pick is far too high to sacrifice in a deal to acquire Wallace, making the move senseless.
The Cincinnati Bengals have two first-round picks, but perhaps they don't see A.J. Green and Wallace fitting together on the field. Or under the salary cap, for that matter. This would seem like the only scenario with any potential.
However, even though the Bengals would be excited to potentially pluck Wallace away from the division rival Steelers, I also think they'd be just as worried with the Steelers having two first-round picks to use in next month's draft.
My guess is that the Bengals will stand pat and not make a move for Wallace.
Fear not, Steeler Nation -- it looks like Wallace will be donning the Black and Gold again -- at least in 2012.
Be sure to follow Beard And Stache on Twitter 
@BeardAndStache
, 
and also Adam 
@Adam_Parker43
, Like our Facebook page 
HERE
!