On Tuesday, Nov. 17, 2015, during an episode of ABC's execrable "The View," a show that promotes an image of women as empty-headed, gossipy harridans, Whoopi Goldberg said Christian refugees from the Middle East are just as dangerous as Muslims.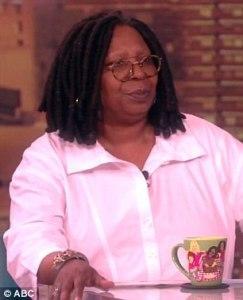 Whoopi, 59 or more likely 66 (according to a 1984 New York Times article), is a high school drop out who changed her name from Caryn Elaine Johnson, her birth name, to Whoopi because of her flatulence. As she once explained: "If you get a little gassy, you've got to let it go. So people used to say to me, 'You're like a whoopee cushion.' And that's where the name came from." (Wikipedia)
Newsbusters reports that during the segment of "The View," the show's team of harpy hosts talked about the ongoing Syrian refugee crisis in the wake of the Paris attacks.
We now know that at least the mastermind attacker had gained entry into France through the country's refugee resettlement program.
The Paris attack has led many in the U.S. to question Obama's refugee program, especially given the FBI's own admission that they simply don't have the data base to vet the refugees. See:
8 Syrians caught sneaking across U.S.-Mexico border. Obama threatens to veto refugee-vetting bill
State governors refuse Syrian refugees, 98% Muslim, who get staggeringly generous services from taxpayers
Trump calls Obama 'insane' to flood U.S. with Syrian refugees
Europe's "refugee" crisis is coming to America: 10,000 Syrians already here; Obama plans to bring in many times more
Co-host Joy Behar exclaimed that this stance wasn't very Christian, then implied that the Christian refugees are super dangerous: "[Oklahoma City bomber] Timothy McVeigh was a Christian. Just sayin'."
Behar provided no evidence to support her assertion, which is not surprising because, as The Federalist points out, McVeigh wasn't a Christian. McVeigh identified as an agnostic and said his violent actions weren't motivated by any religious associations, but by an extreme hatred for the federal government.
Whoopi Goldberg followed Behar's convoluted line of thinking by pointing out how Adolf Hitler was totally a Christian. She said, "There have been a lot of monster Christians. Hitler was a Christian."
Like Behar, Whoopi's claim is also wildly incorrect.
Hitler and the Nazis were animated by Nordic pagan myths, not Christianity. The Federalist points out:
The Reich Minister of Propaganda for Nazi Germany noted in 1941 that "[Hitler] hates Christianity, because it has crippled all that is noble in humanity."
In 1938, Hitler forced all pastors in the Lutheran church, the official German state church, to swear a personal oath to the Fuhrer on his 49th birthday. Any individual who refused to take the oath was to be immediately dismissed. Hitler's demand that pastors put their loyalty to him ahead of their loyalty to Christ resulted in some 10,000 pastors leaving the official church of Germany, according to the London Times.
Dietrich Bonhoeffer, a German Lutheran pastor who was eventually executed by Hitler's regime, made a name for himself by regularly preaching about Hitler's open hostility to biblical Christianity.
See also "Whoopi Goldberg and Joy Behar call Carly Fiorina ugly".
H/t FOTM's MomOfIV
~Eowyn