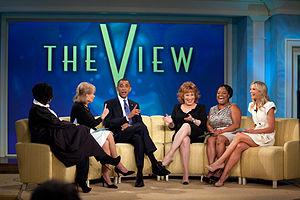 Image via Wikipedia
07/12/2011
In case you haven't heard, Whoopi Goldberg decided to set it off and light a fire underneath Michele Bachmann for signing an anti-gay marriage pledge on The View yesterday.
Goldberg, who is known for being outspoken whether it makes her popular or not (i.e. Mel Gibson, Roman Polanski) took the politician to task over a pledge that demonized gay marriage, porn and single parents but appeared to be pro-slavery (before it was edited out).
Of course, Goldberg let it be known that she wasn't a fan of the pledge and in traditional Whoopi fashion proceeded to call out Bachmann and anyone else that supported the pledge.
Becoming increasingly incensed by the racial tones in the document, Goldberg turned to the camera remarking that "they" need to get their act together across the board especially when it comes to a subject they aren't knowledgeable about like slavery.
Even Elisabeth Hasselbeck chimed in about Bachmann's chances of running a successful campaign after this stint, especially with Bachmann and Rick Santorum signing the document before the slavery statement was removed.