May 2014
Dear friends of mine married on a vineyard in Virginia. Their vows to each other were some of the most sincere I have ever heard (if I were to ramble about those nuptials any more, I'd surely have tears seeping into my laptop). In addition to lasting memories of exemplary love and devotion, I left that vineyard with several jars of wine jelly!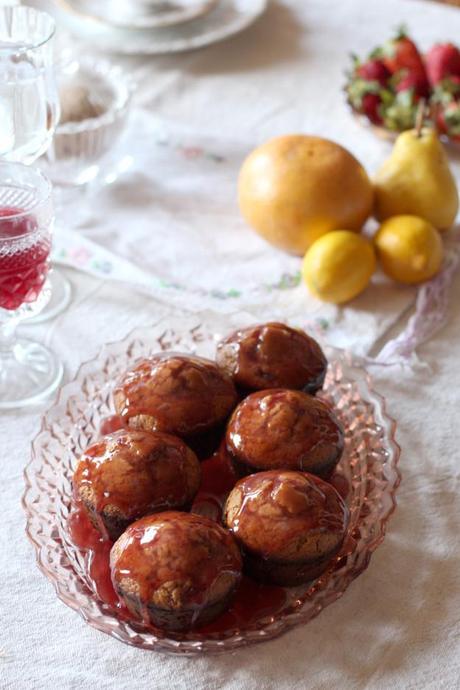 Sharing breakfast with another dear friend provided the perfect opportunity to highlight this special ingredient. Though non-alcoholic, the wine jelly does evoke many of the same flavors as an uncorked bottle.  If you feel like exploring, source a wine jelly of your own. If the product eludes you, simply substitute the jam/jelly of your choosing.
Jam Filled Muffins
makes 12 muffins
Ingredients
Olive oil for muffin pans
2 cups whole-wheat pastry flour
1/2 cup pure cane sugar
1 1/2 teaspoons baking powder
1/2 teaspoon salt
3/4 cup organic Greek yogurt
1/4 cup honey
2 Tablespoons organic, unsalted butter, melted
1/2 teaspoon pure vanilla extract
2 organic eggs
1/2 cup Merlot jelly, separated
Wine Jam Glaze
1/4 cup Merlot jelly
1 cup organic powdered sugar
Directions
Heat oven to 425°F. Lightly oil 12 regular-size muffin cups with a brush.
In large bowl, stir together flour, granulated sugar, baking powder and salt with whisk.
In the bowl of a stand mixer, beat the yogurt, honey, butter, vanilla, eggs and 1/4 cup Merlot jelly until smooth.
Fold the flour mixture into the wet mixture, until just combined. Spoon batter evenly among muffin cups, filling each about 2/3 full.
Using a butter knife (or a chopstick), swirl approximately 1 teaspoon of the jelly into each muffin.
Bake on middle oven rack 9 to 10 minutes or until a toothpick inserted in the center comes out clean. Cool in pan about 4 minutes before turning onto cooling rack.
For the Glaze
In a small saucepan, heat 1/4 cup wine jelly over medium heat until bubbly.
Add powdered sugar; whisk until the glaze is smooth.
Allow the glaze to cool and thicken slightly before spooning over the muffins. If it gets too thick, heat and whisk it again until pourable.

Santé!
-Quelcy