Ding! Ding! Ding! In the ring today, we have the soulful songstress, Fantasia versus the sexxxy rapstress, Nicki Minaj.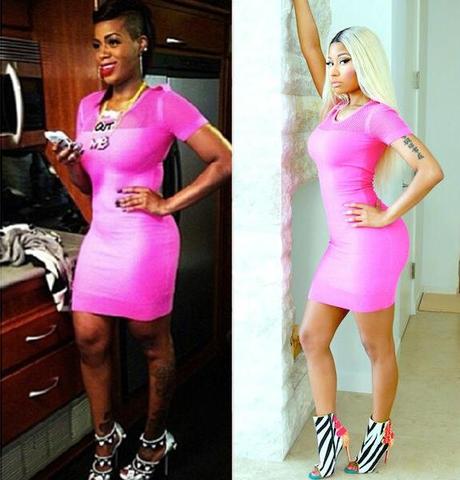 Fantasia is looking really good. I hadn't seen her in a while now but she has obviously lost some weight. But she kept her curves

. She looks really, really good. I also like the new hairstyle. It's like a hawk-tail (mohawk, ponytail collabo).
But!
Although I have a ton of compliments for Ms. Fantasia, I have to say that Nicki Minaj wore it better.
dump the clunk…
Nicki's outfit flows better. It's smoother and less clunky. She went with Louboutin Triboclou 100 Zebra-Print Calf Hair And Python Ankle Boots ($1995) and made them her focal point. Which is great because these LouBous need no introduction nor assistance. They are showstoppers.
two chains but I got me a few on…
Fantasia's shoes are also quite intricate but they have lots of competition. Let's see. They are competing with her makeup and they are competing with the many (chunky) chains she's wearing. This clearly takes away from the daintiness and "feminosity"(yes, I made that word up…I think)  of this dress. It totally covers the beautiful netted neckline too.
look into my angel eyez…
Nicki's angelic-like makeup is best. I love how neutral it is. It doesn't take away for the dress. Instead, it makes you look towards her eyes.  Fantasia's makeup is too, too heavy. She has the red lipstick plus a smokey eye. You really don't know where to look. There's way too much going on in her look.
So what do you think? Fantasia or Nicki? Where do you weigh in? Which were your favorite and worst elements of these outfits? Be sure to let me know below in the comments. 
image: fashionbombdaily