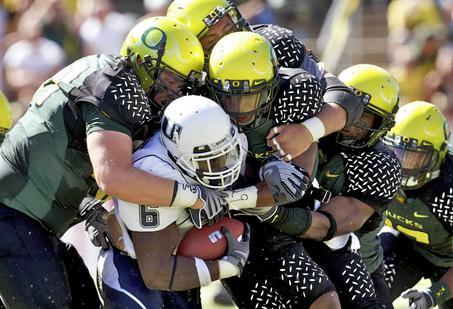 Photo: nflfootballnow.com
- Adam Parker
It's a well-known fact that Alabama's Trent Richardson will be the consensus top running back taken in the draft. Not only that, but with the NFL's aerial evolution in full swing, it's likely that Richardson will be the only tailback selected in the first round at all.
Richardson is one of the top overall talents in the draft, and rightfully so. The former Crimson Tide standout has been touted as the most complete running back prospect since Minnesota Vikings star Adrian Peterson.
At 5'11" and 224 lbs., Richardson is a load to bring down. Not only that, he possesses 4.4 speed, underrated pass-catching skills and is a tenacious pass-blocker (which in today's NFL, is probably the most important asset for a back if he wants to stay on the field).
But what about the next tier of backs? What about guys like Boise State's Doug Martin, Virginia Tech's David Wilson, Miami's Lamar Miller, Oregon's LaMichael James, or my personal favorite -- Utah State's Robert Turbin?
To put it plainly, there just isn't much of a market for running backs in this draft, considering that most teams these days have gone away from the 'feature back' and instead prefer the 'multiple horses in one stable' approach.
That being said, there are still quite a few high-profile collegiate running backs who are looking to make a name of themselves at the next level.
Doug Martin seems to be the most popular pick to be the second running back off the board. At 5'9" 224 lbs., he has a body type similar to that of perennial All-Pro tailback Maurice Jones-Drew.
The former Boise State Bronco maybe doesn't have the speed of say, Miami's Lamar Miller, but his LaDainian Tomlinson-esque jump-cuts and exceptional hands out of the backfield. With all those tools, he'll no doubt make some NFL team happy.
Next up is Virginia Tech's David Wilson. This Hokie was the ACC Player of the Year in 2011, rushing for 1,709 yards at almost six yards a clip. His 40-yard dash was also clocked in the low 4.4's, so he clearly has the speed to leave defenders in the dust.
However, he did cough up the rock seven times last season, his first as the feature back. That lack of ball security will likely turn some teams off, but like they always say - it only takes one team to fall in love with you.
What about electrifying speedsters like Lamar Miller and LaMichael James? Neither are great pass-blockers, but they have game-changing speed and you know the old adage - Speed kills. They're both worthy of mid-round picks, especially considering their breakaway speed should allow them to be factors on special teams in the beginning of their respective careers.
The only knock on these two speed demons is their lack of experience as pure north-south runners. There aren't that many players who have the elite speed to start east-west and then still beat NFL defenders to the corner. However, if they can prove they have the ability to run between the tackles consistently while staying healthy and hanging onto the rock, these two could be draft day steals.
Last but certainly not least -- Utah State's Robert Turbin. At 5'11" 216 lbs., Turbin personally reminds me of Steelers running back Rashard Mendenhall. Neither guy has sprinter's speed  (Mendenhall ran a 4.41 while Turbin ran in the 4.5's), but if they can get to the second level they can take it the distance. When I watched some recent tape on Turbin, I was blown away by his size and power. I mean, this guy's arms could be mistaken for tree trunks.
Not only that, but Turbin had an almost identical yards per carry average to Alabama's Trent Richardson. Most scouts are giving this guy a fourth or fifth round grade. I'm hoping that he goes a little higher because I like him to be the second best back in this class behind Richardson when we look back on this draft down the road.
Regardless of when Turbin is selected, I have no doubt that he will have a very successful NFL career.
But enough about my pick, who do you like as the second back behind Richardson? Who will have the most productive NFL career?
Be sure to follow Beard And Stache on Twitter 
@BeardAndStache
, 
and also Adam 
@Adam_Parker43
, Like our Facebook page 
HERE
!