Tebey teased his last-minute addition to Boots & Hearts 2018 through his social media channels, and then he came on out to the Burl's Creek Event Grounds and was just about everywhere.
His first appearance came as the gates opened on Thursday afternoon and the country music fans started pouring onto the festival grounds. Tebey hopped up on the Chevy Silverado Stage for a few songs to kick start the weekend before the Emerging Artist Showcase performances and the Coors Banquet Kickoff Party. It was great to see him stripped down and ready to sing and rev up the early crowd. And it was cool to see the fans smiling and singing along. It was also cool when he hopped up into the back of a Chevy pick-up truck to play for the B&H campers on Sunday morning, adding a second little surprise to his weekend.
The bonus performance on Thursday included fan favourite (and most played Canadian country song of 2014) Wake Me Up, as well as new tracks and streaming smashes, Denim On Denim and Who's Gonna Love You. And it was the unexpected perfect start to the night and the weekend that we didn't know we were hoping for.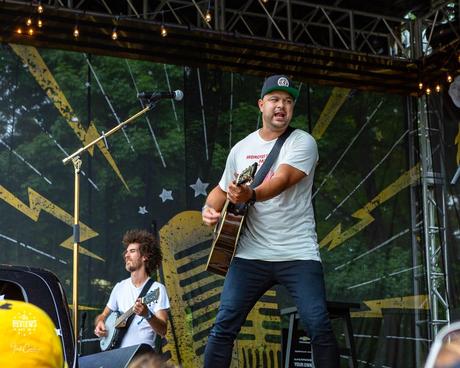 We caught up with Tebey backstage on Sunday to talk about those new songs and what's coming next from the Peterborough turned Nashville singer/songwriter. He told us that the response to Denim On Denim has been amazing since it first came out. He's watched it cross the 3,000,000 stream mark, and Tebey told us that it looks like it won't be long now until he and his team are able to celebrate Gold status on the single.
At the same time, before it's even been released to radio as a single, Who's Gonna Love You has received a ton of streaming love from fans too. With more than 2,000,000 spins already, the song has been tapped as Tebey's next single. And with some support from country radio, and continued love from the fans who have already responded to the song so warmly, we wouldn't be surprised to see some Top 10, Gold status type accolades for this one too.
We talked to Tebey about his music and those songs, and he told us that they are the start of the consistency that he strives for. He wants to put together a string of strong singles that country fans love. He wants to find that groove that sees him finding success and relevance on a continual basis as his career grows and progresses.
Note: While we were talking about his songs and their popularity, we asked Tebey what it's like for him to look out into the crowd and see people singing along to his songs. He said it was cool. But that doesn't cover it. There are really no words, he told us, to describe that feeling. We believe him.
Part of that progression will come on stage as well. He's excited for the opportunity to get up on stage in front of Canadian country music fans with Tim Hicks on the Get Loud tour this fall. With concerts set from the west coast to the east, Tebey will no doubt put together a set that includes his new hits and his old favourites.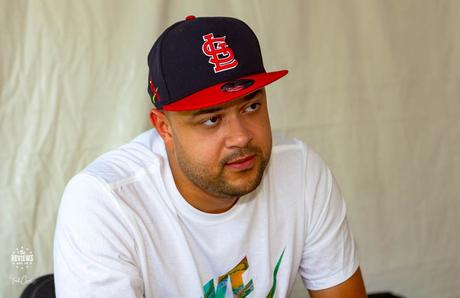 He told us that he loves playing shows and widening his audience. It's his opportunity to make new fans and to give something special to the fans that are already in on him. He added though that it does get hard to be away from home as a tour rolls on. With his wife and two young daughters back at home in Nashville, while he's on the road, long stretches feel even longer. But, he hopes to bring the girls out for a few days on this run. And we hope that he's able to keep doing that and finding ways to make the balance work as they get older and he gets busier.
With the road and touring in mind, The Old School singer is looking forward to putting together his own tour in the near(ish) future. It would be a new step and a significant one for him to take. It also would mean that he has reached a level of consistency that he's looking for if country music fans in Canada are willing to buy tickets and see him headline the show.
Having watched Tebey play stages of all sizes over the last handful of years, hearing his hits on the radio, and following his journey - we won't be surprised when that tour gets announced.
For now, we'll add it to the list of things we're looking forward too from the Canadian country star. We'll put it alongside the next batch of new songs, a full set at Boots & Hearts 2019 (we hope), and more big songwriting credits on tracks like Justin Moore's #1 hit, Somebody Else Will and Kira Isabella's Little Girl, which played in the background from the main stage as a perfect ending to our hang out with Tebey.
Find a Get Loud Tour date near you and see to see Tebey live this fall. And be ready for whatever comes next!
Photos of Tebey at Boots & Hearts 2018