04/21/12 – by Cynthia Wright
On the recent episode of Celebrity Rehab, DMX shocked viewers by consoling a crestfallen gay housemate during a breakdown. Reichen Lehmkuhl — known best as one half of the dramatic but oh-so-entertaining couple on Logo's The A-List seemed to be really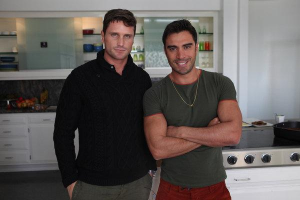 Reichen & Rodiney
shaken up by his past instances of bullying.
Through his tears, Lehmkuhl lamented about how he was taunted and called "homo" and "faggot" most of his life.
"I used to think, how is it that I am gay? I don't want to be gay. Why do people hate gay people so much".
In an attempt to console his housemate, DMX relayed that some of the same instances that surround homosexuality have impacted the black community and that ignorance is what keeps the issues relevant to this day.  He later opened to Lehmkuhl about problems with his relationships between his wife and girlfriend.
Who knew DMX had it in him? I guess prison will do that to you.