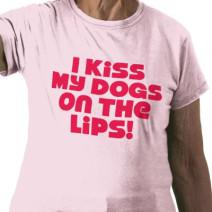 "I kiss my dog on the lips!" t-shirt: image via zazzle.com
 I love getting kisses from my pooch; he's just the sweetest!  But, when it comes to great kissing, I have to admit to preferring my husband's. Not so, however, for 60 percent of the respondents in a recent survey, who said they they would prefer Valentine's kisses from their pets to kisses from their human sweethearts.
The survey of 6,000 pet owners was conducted by Petplan Insurance and focused on how pet owners would celebrate Valentine's Day this year with their pets.
Aside from kissing them, 78 percent of pet parents planned to buy special Valentine's gifts for their pets. Of those, 62 percent estimated they would spend up to $10 on a pet gift, 27 percent said they would spend up to $25, and 11 percent estimated more than $25 would be spent on Valentines gifts for their pets.  Examples of pet gifts include a heated bed, a car seat, spa treatments, and custom portraits.  But most pets will get special toys and/or treats. 
Here was another shocker, at least to me: 20 percent of respondents said that their pets would be sending out Valentines of their own.  I presume that includes cards and gifts.