In this week's Entertainment Weekly, there was a nice tidbit about Denis O'Hare and his return to True Blood in Season 5 as Russell Edgington, the King of Mississippi.
Of course Denis couldn't, and didn't reveal any spoilers about the upcoming season, but he did let out something that brought out our speculation radar; who released The King of Mississippi from the cement?
In the statement below, Denis says, "The people who busted [Edgington] out are nobody you would expect."
What do you think?  Who might the person or persons that released the vampire king be?  And, since they aren't anyone we expect, what could have been their motive for releasing him?
Let us know what you think by leaving a comment below.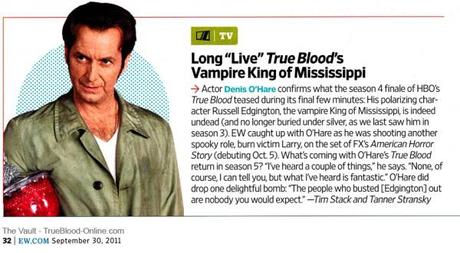 source: Entertainment Weekly, September 30, 2011