Just kidding…it was this woman who said it.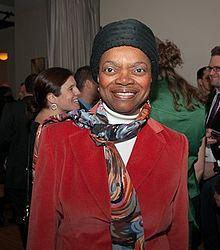 NY Daily News: An African-American New York State senator is slamming the closing of a longstanding Brooklyn grocery store as an unfair incident of gentrification, saying that "white people don't eat the way we do."
"Supermarkets are an important part of the community. It's an important amenity, especially for black and brown communities," State Sen. Velmanette Montgomery (D-Clinton Hill) told the Brooklyn Paper about the soon-to-be closed Key Food market in her neighborhood.
"When you're talking about a white community, it can be a little boutique, because white people don't eat the way we do," Montgomery said. Montgomery didn't immediately return requests from The News to expand on her comments.
The Key Food on Lafayette and Classon Aves. is set to shut its doors within the next several months so a new residential building can be built.
According to the Brooklyn Paper, the eight-story building's landlord has said he would try to bring a supermarket back to the unit after construction on the complex is complete.
And how are supermarkets not an important amenity for people who aren't black or brown? FYI – This woman is a career politician - 30 years to be exact. Bet this racist statement won't hurt her re-election in 2016 one bit.
DCG