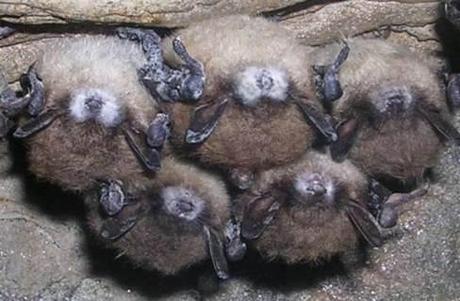 Images from http://www.natureworldnews.com
In caves throughout North America, bats are suffering from Geomyces destructans, or white-nose syndrome. Millions of bats in over twenty U.S. states and at least five Canadian provinces are falling victim to this disease, which is quickly spreading to more caves throughout North America.
White-nose syndrome, or WNS, is a disease contracted by hibernating bats. Contrary to its name, WNS does not just affect the bat's noses, but also their skin, ears, wings, and muzzles. The most visible sign of infection is a white fungus that will grow on affected areas of the bat's skin or wing tissue. Other symptoms of infection include abnormal behavior. This could be anything from daytime flight, to flight during the winter when the bats should be hibernating, as well as retention issues with an infected bat's winter layers of fat. Ultimately, a bat with white-nose syndrome will most likely die from the infection.
WNS first appeared in the U.S. in the winter of 2007. Since then, bat mortality rates have been estimated at around eighty percent. At the rate which white-nose syndrome is spreading, it isn't likely that any individual bat population will make a quick recovery. Without the stress of disease, bat populations are generally very stable with long lived adults and females only having a single offspring each year.
Attempts to stop the spread of white-nose syndrome have not been very successful. Caves that double as bat hibernation and tourist destinations are often closed, or if they remain open, contamination processes are standard procedure.