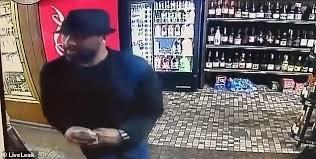 Store owner Kevin Penn
Just when you think you've seen everything under the
Jeopardy
category "Cops Gone Bad," along comes a story like this one: A liquor-store owner in Decatur, AL, called police to report a robbery and even did most of the cops' work for them -- holding the suspect at gunpoint until they arrived. What did owner Kevin Penn, who is black, get for his trouble? A broken jaw and several dislodged teeth, when a white officer entered the store and punched him. But the nuttiness does not end there. From
a report yesterday at al.com
:
A black business owner armed with a gun was mistaken for a robbery suspect when a police officer punched him in the face, Decatur Police Chief Nate Allen said today.


The situation happened nearly three months ago on March 15 but has become public now because of a surveillance video clip released on social media over the weekend. The video shows a police officer walk into Star Spirits and Beverages, a liquor store on Sixth Avenue in Decatur in north Alabama, and immediately punch the owner, 47-year-old Kevin Penn.
Yes, Alabama cops can't tell a victim from a suspect. And in this instance, after brutalizing the VICTIM, they charge HIM with a crime -- interference with government operations. No kidding! Gee, do you think one of the coppers pulled that -- a classic "
cover charge
" out of his anus? That goes to one of the most serious problems with U.S. policing; many cops lie as easily as they breathe.
Like so many "Cops Gone Bad" stories, this one reminds Mrs. Schnauzer (Carol) and me of our own experiences with cops. The Kevin Penn dumpster fire is reminiscent of what sheriff's deputies in Greene County, MO, did to Carol during an eviction
that was unlawful in at least 10 ways
. Here is how we described Carol's experience in a December 2017 post:
About 30 minutes later, as the eviction was nearing an end, a male officer in a blue shirt grabbed Carol from behind as she was trying to enter the apartment -- as she had been given permission to do -- to retrieve our cat's litter box. The officer body slammed Carol to the ground, butt-first, and then yanked viciously on her limbs -- breaking her left arm into more than two pieces and leaving her right armed bruised deep purple for pretty much its full length.
In reality, Carol was the victim of a vicious assault, but cops (Sheriff Jim Arnott) accused HER with a crime -- misdemeanor assault on a law-enforcement officer -- even though the officer in question, Jeremy Lynn, admitted he initiated contact with Carol, grabbing her as he entered our duplex apartment, meaning (under Missouri law) she could not have assaulted him.
Kevin Penn knows how such a bogus criminal charge can materialize. Cops seem to have an automatic "cover your ass" instinct. And did we mention that cops lie? They did it in the Penn case, in Carol's case, the George Floyd case in Minneapolis, the Martin Gugino case in Buffalo . . .
In the Alabama case, Penn was fortunate that most of the incident was captured on surveillance video. (Video embedded at the end of this post.) But that didn't stop Decatur Police Chief Nate Allen from making excuses for his officers:
Allen said because police were called to investigate a robbery and Penn was armed, they believed he might have been the suspect.
At a press conference on Monday afternoon, Decatur police played body camera video, in which an officer can be heard telling Penn to put down his gun and Penn refusing to do so. . . .
Penn moved his hand over a gun lying on a counter next to him, said Allen. The chief said the man was holding a magazine in his other hand, which police at the time may have believed to be a gun. . . .


Penn was taken to the ground, handcuffed and arrested on a misdemeanor charge of obstructing governmental operations. Police accused him of obstructing their investigation of the robbery, according to court records.




But police today said rather than a robbery, a simple shoplifting had taken place at Penn's store. Body camera video appeared to show the suspected shoplifter lying on the ground inside the store. Police say a shoplifting suspect was arrested that day, but they haven't released the person's name or charges. . . .

Cole said Penn showed the gun to the officers to make sure they knew he was armed, then took out the clip and ejected the bullet from the chamber.
None of the cops' excuses, of course, explains why officers punched Penn -- or failed to ask, "Who is the owner that called us, where is the suspect?"
Carol underwent eight hours of trauma surgery to repair the comminuted fracture in her arm. Penn also has experienced significant pain and suffering:
As a result of the punch, Penn suffered a broken jaw and some of his teeth were knocked out, his lawyer, Carl Cole, told AL.com. Penn underwent several weeks of treatment, including having his mouth wired shut, his lawyer said.
Penn should have a major civil-rights lawsuit -- not to mention possible criminal charges against the cops. Meanwhile, Chief Allen sees the punch as sort of a good thing:
Asked today whether the punch amounted to excessive force, Allen said officers should use the "least amount of force necessary to get the job done."

Many cases involving an armed suspect end with police shooting the person, he said.

"I would much rather have a punch than an officer-involved shooting," the chief said.