April 1, 2014
LA Times: White Castle, known for its small, square hamburgers, is joining the fast food breakfast wars. Just shy of a week after Taco Bell launched its waffle tacos and new breakfast menu, White Castle announced plans to launch a line of waffle breakfast sandwiches of its own. 
They include bacon, egg and cheese; sausage, egg and cheese ($2.19) or classic chicken and waffle sandwich with gravy ($2.69). The sandwiches are served on fluffy waffles that the company imports from a bakery in Belgium. You can also get a small container of Mrs. Butterworth's syrup for dipping.

Let me get this out of the way now, I'm not a White Castle guy.  Never did it for me, personally, but their parlay into the breakfast world is completely and utterly diabolic.  I mean god dammit, Taco Bell barely got their breakfast to the east coast before White Castle dropped the hammer.  And for the record, "fluffy waffles that the company imports from a baker in Belgium?"  Are you kidding me?  How do I buy stock in this shit, because if this isn't gold than I have absolutely no idea what "can't miss," means.
Um, yes please.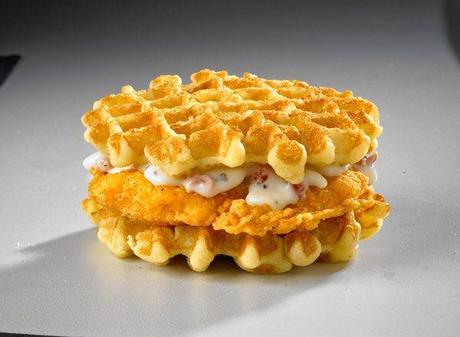 If you don't think we're having a Taco Bell vs. White Castle Breakfast Blowout, then you don't know me at all.
Post navigation
← Pictures of The Red Sox At The White House Got Me Hot And Bothered