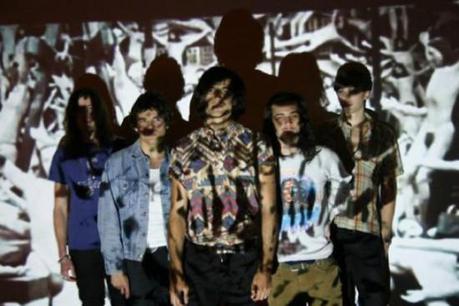 Setting their songs against a fragmented, space-age cadence, LA based indie pop group White Arrows (@whitearrows) have recently released their track "Get Gone", an urgent and disjointed collection of crass electro sounds. In addition, after completing their European tour this May, the band will come home and travel with Beat Connection over the summer.
Formed by singer Mickey Church, White Arrows carries a confused, disillusioned sound throughout their music, culminating in "Get Gone", a disparate track with two clear themes — pop-infused summer optimism and subversive lyrical progression. Tied together by Church's lighthearted approach, this track and others are simply smart, concise electro pop, punctuated with more lyrical introspection than is common for the genre.
White Arrows will stop by Brooklyn in July, playing The Knitting Factory on the 5th, and will tour all over the US during the summer.
Tour Dates For White Arrows:
04/15 – San Francisco, CA – Slim's *
04/17 – Visalia, CA – Cellar Door *
05/10 – Brighton, UK – The Great Escape
05/11 – London, UK – Koko (Club NME)
05/12 – The Hague – Walk The Line Festival
05/18 – Liverpool, UK – Liverpool Sound City
05/19 – Glasgow, UK – Stag & Dagger
05/21 – Bristol. UK – O2 Academy Bristol #
05/22 – London, UK – HMV London Forum #
05/23 – Manchester, UK – The Ritz #
05/24 – Leeds, UK – The Cockpit #
05/26 – Brussels, BE – AB Club #
05/27 – Oosterstraat, NE – Vera #
05/28 – Doornroosje, NE – Nijmegen #
05/29 – Amsterdam, NE – Melkweg #
06/15 – Santa Cruz, CA – The Catalyst %
06/16 – Los Angeles, CA – The Troubadour %
06/17 – San Diego, CA – Casbah %
06/18 – Phoenix, AZ – Rhythm Room %
06/20 – Dallas, CA – La Grange %
06/21 – Austin, TX – Red 7 %
06/22 – Houston, TX – Fitzgerald's %
06/23 – Baton Rouge, LA – Spanish Moon %
06/24 – New Orleans, LA – Circle Bar
06/26 – Tampa, FL – The Orpheum %
06/27 – Miami, FL – Bardot %
06/28 – Orlando, FL – Will's Pub %
06/29 – Atlanta, GA – The Masquerade Hell's Stage %
06/30 – Raleigh, NC – King's Barcade %
07/01 – Washington DC – DC9 %
07/03 – Philadelphia, PA – Kung Fu Necktie %
07/04 – New Haven, CT – BAR Nightclub %
07/05 – Brooklyn, NY – Knitting Factory %
07/06 – Cambridge, MA – TT the Bears %
07/07 – Montreal, QC – Il Motore %
07/08 – Toronto, ON – Drake Hotel %
07/10 – Pittsburgh, PA – Billobox %
07/11 – Cleveland, OH – Grog Shop %
07/12 – Chicago, IL – Schuba's Tavern %
07/13 – Detroit, MI – Majestic Café %
07/14 – Milwaukee, WI – The Cactus Club %
07/15 – Minneapolis. MN – 7th Street Entry %
07/17 – Denver, CO – The Hi-Dive %
07/18 – Salt Lake City, UT – Kilby Court %
07/19 – Boise, ID – Reed Boise %
07/20 – Portland, OR – TBA
07/21 – Seattle, WA – Capitol Hill Block Party
07/22 – Vancouver, BC – Media Club %
07/26 – Santa Ana, CA – Constellation Room
* with Givers
# with White Denim
% with Beat Connection