Booze Review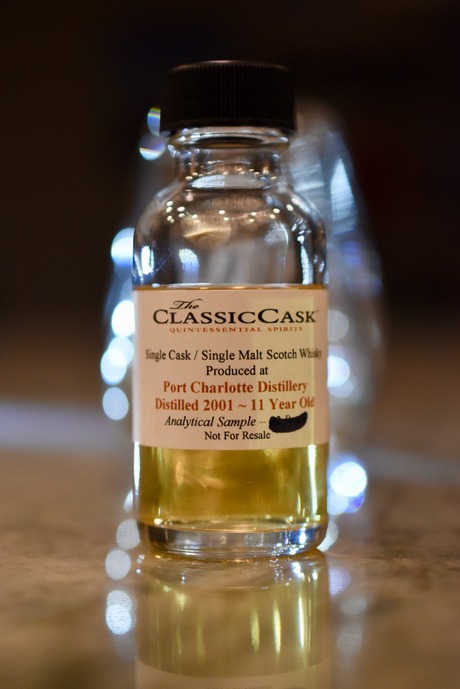 The whisky in the above photo is part of that care package that I received from Spirit Imports way back in December of 2016 which I first mentioned in my review of The John Milroy Selection Bunnahabhain 1990. As the title of this post clearly states, the whisky housed in this sample comes from Islay's Port Charlotte Distillery. Just so you know, per Bruichladdich, the current distillers of Port Charlotte branded whisky, distillation occurs at the Bruichladdich distillery while maturation occurs in the stone warehouses of the old Port Charlotte Distillery. I've had a couple Port Charlotte whiskies in the past and have definitely enjoyed them. Let's see if this one is as good as those that I've had in the past...
Appearance: Golden yellow color.
Aroma: Very vapory at first sniff. After a few minutes of letting it open up, I get a healthy dose of burning charcoal followed up with some powdered sugar, brine, cracked pepper, orange zest, and fennel.
Taste: This whisky sure isn't shy! Starts off with a big blast of smokiness which is of the charcoal and BBQ'd beef variety, i.e. it's smoky and sweet at the same time. Lots of spice kicks in at the middle (think roasted chiles and cracked black pepper). At the end, a hint of powdered sugar and vanilla show up, but that smoke and heat never let go. The finish is long and warming with some lingering spice and herbal notes.
ABV: 46%
The Verdict
For this particular Port Charlotte Single Cask Whisky, an ABV of 46% feels absolutely perfect! Bottling this whisky at a higher ABV would probably overwhelm your palate and keep you from picking up all of the subtler notes. If you're not a peat lover, then this whisky probably isn't for you because it really packs a peaty punch. I really enjoyed it's intensity and would definitely recommend this as an early winter sipper.
______________________________________________________
Many thanks to Lauren Mayer of Spirit Imports for sending us this very generous sample!
Categories: Booze Review, Port Charlotte, The Classic Cask
Tagged as: Drinkwire, Lauren Mayer, Liquor, Review, Reviews, Spirit Imports, Spirits, The Classic Cask, The Classic Cask Port Charlotte 11 YO, Whiskey, Whisky