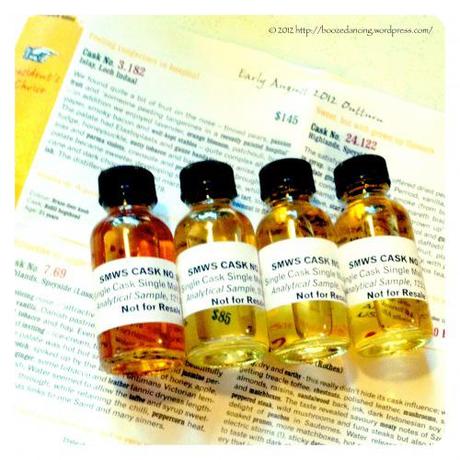 Our first batch of Scotch Malt Whisky Society Outturn samples.
A while ago, G-LO received an email from the Scotch Malt Whisky Society of America (SMWSA) about a new program that they are starting whereby they will send samples of their newest Outturn offerings to various whisky bloggers across the country in order to get their opinions, and of course, create some buzz. Having attended the Society events in Philadelphia and New York and sampled some of the dozen or so Society bottles that I have purchased over the years, he, quite naturally, jumped at the chance as he couldn't pass up an opportunity to get a sneak preview of their latest offerings.
Our first delivery contained four samples which G-LO and I split. He has already reviewed Cask No. 7.69 (Attractive as apple pie). For my first review, I chose Cask No. 30.68 (Long, hot, summer delights). My second sample was Cask No. 24.122 (Sweet, but with grown up flavours). Here is a bit more information about this whisky from the SMWSA:
The satisfyingly fragrant nose offered dried pear, green apple, fruits in syrup, scented soap, light Pernod, vanilla, caramel and dark chocolate gingers; also hints of smoke (from burning paper). The palate conveyed ample sweetness (amaretti biscuits, honey, bourbon creams) but also some quite 'grown up' flavours – cinnamon, clove, star anise, chilli, salt, menthol and gunpowder. The nose was much lighter with water – jasmine, daffodil and floral soap, alongside poached pear, creamy dragon fruit, plantains and tree bark. The reduced palate was sweetly fruity, with pleasant lingering Christmassy spices, carrot cake and Rooibos tea. The distillery lies between Aberlour and Craigellachie.
And now for my impressions of this whisky…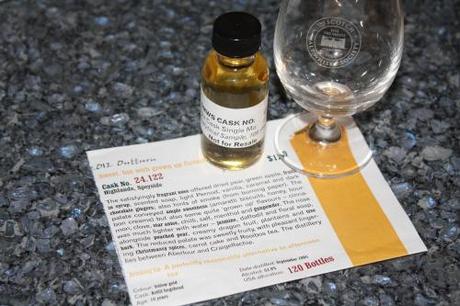 Appearance: Goldenrod.
Aroma: Caramel, vanilla, alcohol, menthol and ginger.
Taste: Sweet, apples & honey then spicy cinnamon, menthol and then the warming, tingling and pleasantly lingering effects of the alcohol. With a little water, the taste is just vanilla and caramel. All of the spice is muted and there is just a hint of alcohol.
Age: 16 years
Cask: Refill hogshead
ABV: 53%
While this is cask strength, the age of the cask has reduced the ABV to 53% so you might not need any water. While I usually like a little water, I found that the water reduced some of the flavors and it was really better without the water. According to the Society Distillery Decoder at The Whisky Portal, distillery #24 is The Macallan. I am a big fan of The Macallan and have attended a couple of their events in Philadelphia as well as hit their table at the Philadelphia Society events. I would put this cask up against any that I have tried. This was a very nice whisky.
Thanks again to Gabby Shayne (click here to meet The Whisky Sisters) of the Scotch Malt Whisky Society of America for sending us this sample.