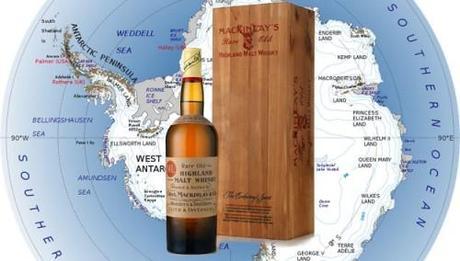 Epic. Legendary. Two words that are often overused, but they most definitely apply when speaking of Sir Ernest Shackleton. I have been fascinated with the story of his Antarctic expedition ever since I saw a film called Shackleton's Antarctic Adventure at the National Geographic IMAX Theater in Victoria, British Columbia.
Since there has been a great deal published about Sir Ernest Shackleton's expedition to the Antarctic, and the discovery and subsequent recreation of his favorite whisky, I won't bore you with a history lesson. I will instead point you in the direction of NOVA Online for more about Shackleton's adventures in Antarctica (click here to visit the NOVA website), and to the New York Times for more about the making of this whisky (click here to read their excellent article).
Let's get down to the business at hand…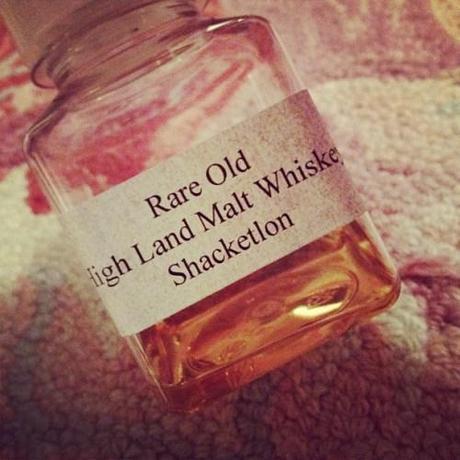 The 50ml sample that I received from the Baddish Group. Please pardon the typo.
Appearance: Golden yellow.
Aroma: Very fresh and fragrant on the nose. Eucalyptus. Vanilla. Fresh whipped cream. Toffee. A touch of smoke.
Taste: Medium bodied whisky, i.e. not watery, but not oily or syrupy either. That first sip immediately tingles the tip of my tongue. The smokiness is a bit more apparent in the taste, but not at all overwhelming. There is quite a bit of peppery spiciness, coupled with some light brown sugar sweetness from beginning to end. Very smooth and easy drinking. Sweet/peppery finish that lingers for a really long time.
ABV: 47.3%
I wasn't really sure what to expect from this whisky. There was a good bit of hype thanks to all of the media coverage, so I was truly expecting to be disappointed by the Mackinlay's Rare Old Highland Malt. Thankfully, Richard Patterson, Master Blender for Whyte & Mackay, did a fabulous job of creating a whisky that is a true pleasure to drink. Sir Ernest Shackleton would be pleased.
Thanks to Sara of The Baddish Group for sending me this sample.
Advertisement