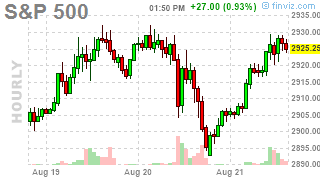 Wheeee, what a ride!  
The indexes fell off a cliff in afternoon trading but, not to worry because, as soon as the markets closes, the little manipulator gnomes went right to work and prettied things up for the Asian (9pm) and European (3am) opens – so no one even knew that the US sold off into the close and the total flat-line since 5am isn't the least bit suspicious – just normal human beings trading normally…  Move along – nothing to see here folks…
The stock market is becoming a farce and that makes for dangerous trading conditions so caution is strongly advised.  We are right back where we started the day yesterday so I won't bore you with a repeat of yesterday morning's PSW Report but I will point out that it doesn't count to get over the Strong Bounce lines if you can't hold them for 48 consecutive hours so, according to the 5% Rule™ – we're still not our of the woods on the recent correction.
This afternoon we get the FOMC Minutes from their July 31st meeting (2pm), when they gave Trump a 0.25% cut with Rosengren and Quarles objecting but the Minutes will give us color as to how supportive the rest of the Fed was as it's now widely believed that they will cut AT LEAST 0.25% at the Sept 18th meeting and Trump is asking for a 1% rate cut – which would be uprecedented and unhinged!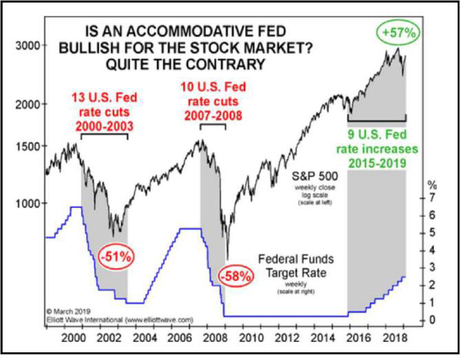 Of course, as usual, the markets are reading it wrong and, as usual, traders have absolutely no grasp of history as, historically, the Fed raises rates in a GOOD market and LOWERS rates in a bad market – ESPECIALLY at the top of a bad market as they attempt to forestall a looming disaster so the cut of July 31st was a warning – not a bullish signal!
And notice the key is the Fed generally cuts rates about 5% during a market correction and now we are starting at 2.25% so are we going to go for -3% when the market begins to tumble?  -3% means you get paid to borrow money, which sounds good but no one is actually going to lend you any money under those terms.  What will happen though is you WILL be CHARGED to LEND money and you WILL be CHARGED to SAVE money – in other words, money will become a use it or lose it proposition for the average American and "saving" for retirement will become impossible.
You would think that couldn't happen but it's already happening in Europe and Japan and there is already $16Tn invested in bonds that carry negative rates of return because THAT is how afraid of the stock market and the housing market some people are!  Not us, right?  Because we have faith!  Well, doesn't that just make us sound like idiots?  Yes, it does – don't put all your faith in the stock market – make sure anything you have in the market is very well hedged – you've seen how fast the market can drop based on a tweet from the President – imagine if something actually happened!
At the moment, we're still driving the market on rumors, like this morning the President said he's considering lowering taxes again to boost the economy he says is the best ever.  Why such a good economy needs so much boosting is a mystery, but lower taxes is how we got this thing started – so I guess it will be a nice bookend to finish us off.
We'll see how high they can drive things this morning but 26,300 on the Dow and 2,940 on the S&P 500 have been tough nuts to crack along with 7,775 on the Nasdaq and 1,535 on the Russell – despite the morning rally, we still have about 0.5% to go just to get back to those August highs, which are nowhere near the July highs of 27,400, 3,027, 8,027 and 1,600 so really, what is there to be impressed about at these levels?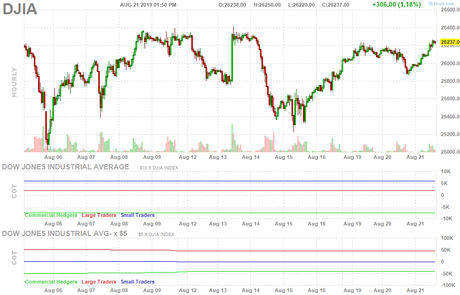 We will discuss more hedging strategies in today's Live Trading Webinar at 1pm, EST.  Sorry but this one is for Members only (you can join here) as we'll be adjusting our Member Portfolios around the Fed Minutes.
Be careful out there! 
Do you know someone who would benefit from this information? We can send your friend a strictly confidential, one-time email telling them about this information. Your privacy and your friend's privacy is your business... no spam! Click here and tell a friend!