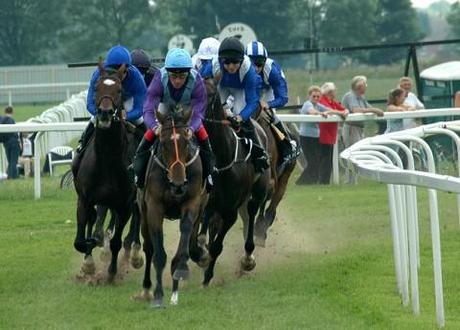 Ascot's Champion's Day was a resounding success, though some blamed the BHA for putting a bit of a damper on the day. Photo Credit: Steve Sawyer
The "richest day in British racing history." That's what the official website for the QIPCO Champion's Series calls the inaugural QIPCO Champions Day at Ascot last Saturday. I was there, and in many ways it was; quite literally, with the prizes for the 16:10 QIPCO Champion Stakes standing at a staggering £1.3 million, but also rich in sunshine, nail-biting action and, importantly, fun. Even though I left a couple of quid down (a dodgy tip on the last race saw me lose the money that I'd confidently accumulated throughout the day) and the race course felt a bit odd without people swaggering about in top-hat and tails (though HM The Queen could still be seen awarding her eponymous prize to Henry Cecil and the rest of the team behind wonder-horse Frankel), I left grinning from cheek to cheek. The day was one of champions becoming legends, and every race saw magnificent showings from every horse on the track.
Unfortunately, a bit of a dampener was put on the proceedings when it turned out that French jockey Christophe Soumillon had received a 5-day ban for cracking his whip six times when he rode to victory on Cirrus Des Aigles in the 16:10 race under new British Horseracing Authority (BHA) rules. His fine of £55,000 was the highest in British racing history — unthinkable when one considers that the previous largest fine, levied on Nicky Henderson in 2009 for the far more serious crime of doping, stood at £40,000. The new legislation allows jockeys seven smacks in a flat race, but (and here's what got Soumillon) only five within the final furlong. Soumillon says he couldn't see past the horse challenging him (Coolmore-owned So You Think, which is one of the bigger horses in British racing) and he also protested at the British rules because they differ from his native French rules — "How can you change your riding style from country to country? They don't in other sports – in rugby the rules are the same worldwide", he said.
In many ways, it was inevitable that such a debacle would bring the day down a notch or two. Last week, one of the world's leading jockeys, Richard Hughes resigned in protest after receiving a 15-day ban for twice infringing the rules. He protested against the final furlong rule, which he complained is unworkable.
"I've been trying to obey the rules this week and when the rules came in we all thought seven was a fair number", he said. "But then they set a trap by saying you could only hit them five in the last furlong.
I agree with Hughes. Of course, horses should be hit less, and they certainly shouldn't be viewed as a commodity simply for buying, trading and racing. The best owners and trainers know they should be treated with love and respect, and that such treatment will produce a happy horse that is calm and willing to go the extra distance to be a big winner. So far, so fair, but to expect jockeys to spot the final furlong marker at 40 mph and be concentrating on winning is somewhat ludicrous. Hughes also rightly pointed out that jockeys are encouraged to whip their horses more at the beginning of the race by the new rules. Why the BHA decided to implement such limiting rules before a day that was supposed to reignite British Racing is beyond me, but hopefully their review of the new legislation on Tuesday will get rid of the final furlong stipulation, and let top jockeys such as Hughes, Soumillon et. al. come back into the fold.
Despite the rather nasty distraction, QIPCO Champion's day was still a resounding success, and did much to focus the spotlight back on British racing at the end of the season. Seeing Frankel run was an awing experience for racing fanatics and casual fans alike, and Cecil is to be congratulated on putting on a fantastic show for us. Holding the day in October was indeed a risk, but, as it was Saturday's halcyon weather more than made up for a rainy Royal Ascot. Finally, the day showcased the best of British co-operation with other countries — allowing the Qatari investment company QIPCO to sponsor and run the day at Her Majesty's racecourse was a major coup, and has done great things for the future of British racing as a sport for everyone to enjoy. Now, if I can only make those few pounds back … tip for tomorrow, anyone?