That's at least what I like to think happened when they decided to lure people in for non-meal occasions.
"Loaded Grillers."
[faint chuckling and then a slight scuffle from the teens horsing around in the corner booth]
Once again, Taco Bell is giving unambitious comics and supercilious bloggers the perfect chance to remark upon the fact that all they do is recombine and rename food based on what's already in their kitchen.
Unless Lorena is involved. Then it's all "Chipotle-esque" this and "Master Chef" that. I think Eater.com is onto a pretty good take on the newest Lorena thing coming our way, which is a chicken Caesar burrito.
[teens unexpectedly erupt with laughter and one of them stages a coughing fit as Mountain Dew sprays out of her nose]
And then there's this Taco Bell/political statement/easy weed joke image from yesterday after a few of our fellow Americans decided that marijuana is a ridiculous reason to go to jail: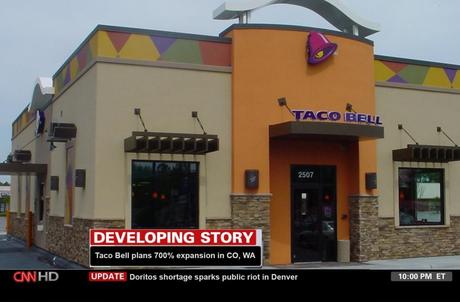 Thank you, Taco Bell, for providing a reliable common reference when we try to think of stoners with the munchies.